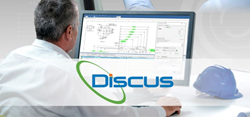 "The DISCUS team knows exactly what we want in inspection software and they once again delivered. DISCUS 10 not only has a sharp and modern new look, but has some great new features." - Michael Parsley, Precision Systems Manufacturing
COLUMBUS, Ohio (PRWEB) July 24, 2019
Columbus, Ohio-based, DISCUS Software is proud to announce their latest software update, DISCUS 10. In particular, this release offers an updated look and feel that is both modern and concise. DISCUS 10 has improved the ease of use and focuses on not only the requests of our customers but a greater industry need for a more intuitive and responsive software experience.
DISCUS 10 is the result of feedback from our more than 1,500 customers. We strive to enhance the DISCUS experience across all DISCUS Desktop modules including OCR, Results, CMM, Planner, and 3D.
DISCUS 10 improvements include:

Modern Software Interface – DISCUS 10 has a visually appealing and functional accessibility that retains the smart and intuitive functionality. Learning DISCUS 10 will take a few minutes, at most.
All Settings in One Place — Users can now adjust all the settings in one place. Change balloon shape and size, click to adjust tolerances and OCR settings by accessing the inclusive Settings options.
Dockable Bill of Characteristics – When working with the characteristics, users can now undock the list of requirements for a double screen experience. Maximizing your control and visibility to the characteristics on one screen and viewing the ballooned print on another provides users a modern approach to creating, modifying, and reviewing the data.
Consolidated Icons – DISCUS 10 has reduced the number of functional icons, such as one leader line for all items:
Balloons, Sub balloons, Flag Notes, and Mark up Text. DISCUS 10 is not only visually appealing but easier to use!

OCR Settings in Tool Bar – Change the OCR settings quickly in a single click and view your current setting right on the tool bar. There is no need to drill-down to find the OCR settings—now it's immediate and visible.
New Icons – Dropping balloons, adding sub balloons, auto ballooning, and zooming plus more, have a precise cursor that allows user greater precision in applying actions on the drawing.
Assign Specs via Notes for Streamlined Entry Box – When you assign specs from the notes, you can copy & paste the spec name immediately without clicking an additional tab. That information is immediately available.
Assign Multiple Filters – Now you can assign more than one filter configuration in DISCUS 10. For example, assign a filter for key and diameters and you can see both the key characteristics and all diameters. The entire Filter function has been improved with time-saving features.
Move Balloons at any Time – If you need to move a balloon, you can do so at any time without using the selection tool.
We are committed to customer satisfaction and are dedicated to making your DISCUS experience even more positive. Visit our website to download this latest version: http://www.DISCUSsoftware.com
DISCUS 10 improves the user's experience and provides exciting changes that outshine the previous releases.
DISCUS customer Michael Parsley, from Precision Systems Manufacturing, recently reviewed DISCUS 10 and offered these comments:
"As a customer of DISCUS for over 10 years, I have witnessed the many developments and time saving features of DISCUS. It is great to work with a software company that understands the needs of the customer and not just the nuts and bolts of how software works. The DISCUS team knows exactly what we want in an inspection software and they once again, delivered. DISCUS 10 not only has a sharp and modern new look, but has some great new features, like the ability to undock the bill of characteristics, move balloons whenever I want and the settings in one place. These are just a few of the new features! This makes the software even easier to use and I am sure those new to DISCUS will find it a great tool, easy to use and fast. Bravo DISCUS 10!"
To try out DISCUS 10, Download the free trial installer by clicking here.
For questions or a demo, contact sales@DISCUSsoftware.com or call 614-360-2424 ext. 1.
DISCUS Software Company specializes in the development of software tools for accelerating manufacturing and quality engineering. Its software products are productivity solutions that dramatically reduce the time it takes to complete first article inspection reports, in-process inspection planning and process planning. DISCUS was the first software product to automate engineering drawing annotation and manufacturing inspection requirement extraction. DISCUS is the innovator, not the imitator, in the First Article Inspection Reporting automation market. DISCUS is compatible with many of the requirements used by companies such as Boeing, Ford, GE, Lockheed, and Siemens. For more information visit https://www.discussoftware.com/about-us/.