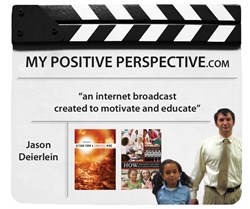 ALS is a progressive neurodegenerative disease that attacks nerve cells in the brain and spinal cord.
Charleston,, SC (PRWEB) September 10, 2013
On September 9, 2013, My Positive Perspective produced an episode that mentioned a musical event that has the intention of raising money for Lou Gehrig's disease research. In the episode, host Jason Deierlein was joined by musician Graham Whorley. At the beginning of the episode, Deierlein asks Whorley to comment on the event, and is told, "With the help of the foundation Bright Side of the Road, we have put together this event which features eleven different bands. The event will be held at the Brick House Kitchen on Folly Road from 11 a.m. until midnight."
ALS is a progressive neurodegenerative disease that affects nerve cells in the brain and the spinal cord. During the episode, Whorley points out that not much is known about ALS and Whorley says, "We know more about Alzheimer's disease than we know about ALS and little is known about what causes Alzheimer's disease."
The topic switches from ALS to what bands are playing at the event, Deierlein notes, "I saw that Ben Fagan and the Holy City Hooligans are playing." Whorley nods his head in agreement and says, "In addition to Ben and myself playing at the event, I would also like to thank Mark Bryan from Hootie and the Blowfish, Hibachi Heroes, Adande African Drum and Dance Company as well as many more bands that are donating their time for this great cause."
My Positive Perspective is a media outlet believing that improvement in our community will be best achieved by focusing on the good things happening in our world today. Having survived a near fatal car accident as a youth, a shift of perception forced one to have a mentality of always concentrating on the brighter sides of things. This was true, and in my book, Return From a Comatose Mind, this belief was put to the test. Appreciation for life was the biggest thing one took away from my brush with death, and it is because of that gives me such a huge desire to be helpful to many. My Positive Perspective is a way of overcoming challenges through positive thinking.