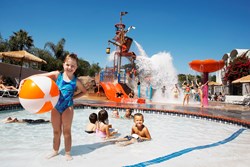 Waterpark hotel next to Disneyland is among the top 10 family hotels in the U.S., says TripAdvisor.com.
Anaheim, CA (PRWEB) January 26, 2014
The Howard Johnson Hotel and Water Playground at Disneyland today announced that it received the 2014 Travelers' Choice Award in the category of "Top 25 Hotels for Families in the U.S." by TripAdvisor.com. The hotel is ranked #9 in the country.
The annual TripAdvisor Travelers' Choice awards honor the world's best hotels, earning their distinction from those who know them best – real travelers. Unlike any other hotel honors, TripAdvisor Travelers' Choice winners are based on millions of valuable reviews and opinions from travelers around the world. 2014 Travelers' Choice lists can be found here: http://bit.ly/BestHotelsForFamilies.
"Our team is dedicated to creating an outstanding family experience for our guests. We see family groups of up to four generations staying with us as part of their annual family traditions. It makes us so proud of what we do," said William Simpson, Marketing Director for the Howard Johnson Hotel and Water Playground.
It is one of the only hotels across from the Disneyland entrance that benefits from seven private acres of landscaped gardens and walkways, mid-century modern buildings, tall old-growth trees and two large water recreation areas. A pirate-themed water playground called "Castaway Cove" and a separate large Garden Pool area accentuate the family-friendly facilities. View the episode regarding these water features on the hotel's travel series, "Let's Check In" here: http://youtu.be/gkreiG8bfd8.
A Disneyland area favorite for almost 50 years, the Howard Johnson Hotel and Water Playground has been winning awards since the mid 1960s. Built as a Howard Johnson Hotel in 1965, this site was one of the first large hotels to accommodate Disneyland's overnight guests and won an award from the American Institute of Architects in 1966. The renowned architect William L. Pereira, designer of the iconic pyramid-topped Transamerica building in San Francisco, LAX and the Disneyland Hotel, created this distinctive property. This jewel in the crown of the Howard Johnson chain will undoubtedly thrill guests for another 50 years.
For more information, visit http://www.hojoanaheim.com.