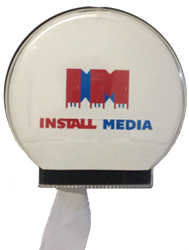 Rye Brook, NY (PRWEB) February 11, 2014
InStall Media (http://www.installmedia.com) spent a week going door to door giving gas station owners the opportunity to save money on their bathroom expenses. The stations receive a toilet paper dispenser and any replacements free of charge as well as a free case of toilet paper every month.
The initial network of 100 dispensers reaches 300,000 people every month. InStall Media is now attempting to sell this network to a local or regional business. The cost of advertising in this very unique and fun way is $2,000 per month (http://www.installmedia.com/factsheet.pdf).
InStall Media believes that gas stations and their dispensers are a perfect combination. The companies initial advertising targets are car dealerships, lawyers, and restroom products.
For those interested in learning more or advertising with the company, they can reach out to Jordan Silverman.