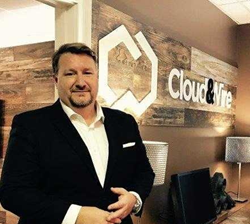 "Our expert panel of experts from Darktrace, Jive, Nutanix, Stormagic, and QTS will discuss the roadblocks to adopting new technologies, how to avoid pitfalls that threaten a successful rollout, and how to build a culture of change for your team."
ATLANTA (PRWEB) August 23, 2018
The pace of Disruptive Technologies can be affected by a host of issues, including cyber security, government regulation, and most importantly, the consumers' ability to adapt and accept change. In this era of endless innovation, the only prediction you can be 100% assured of is that the future will look very different from today.
The Disruptive Technologies Educational Tour, held in conjunction with The Georgia Manufacturing Summit, will address some of these challenges by providing a full day dedicated to the discussion of the technologies most likely to impact Georgia's manufacturing companies today and in the future. Cloud & Wire, the Technology Education Partner, has assembled a notable lineup of industry influencers and subject matter experts to educate Summit attendees on: Artificial Intelligence • Cyber Security • Global Communication • Internet of Things • Network Planning • Robotics • Software-defined data centers, and more.
Hot topics covered will be:
1. Why Georgia manufacturers are moving to private collocated data centers and not the public cloud.
2. Simplifying the management of corporate and remote facilities in the modern data center.
3. Leveraging artificial intelligence and machine learning to secure your intellectual property.
4. The unfair advantage of moving your computer and analytics to the Cloud.
5. The Internet of Things and ways to enable manufacturers for better success.
6. The new era of telephone and communications for manufacturing in the Cloud.
"We will help manufacturers and industry leaders reshape their technology future," said Rob Hootselle, CEO of Cloud & Wire. "Our expert panel of experts from Darktrace, Jive, Nutanix, Stormagic, and QTS will discuss the roadblocks to adopting new technologies, how to avoid the most common pitfalls that threaten a successful rollout, and how to build a culture of change for your team throughout the entire supply chain."
Now a fixture in Georgia's technology scene, Mr. Hootselle, is recognized as an early pioneer for two emerging market disruptors in the enterprise flash storage and Hyper-Converged Infrastructure space. He has worked alongside some of the most influential tech leaders of our time, including Doron Kempel, David Flynn, and Steve Wozniak of Apple fame. He has helped create new markets for two of the fastest growing technology manufacturers of all-time, Fusion-io and SimpliVity, and recently helped with the eventual sale of Tegile Systems to Western Digital, the largest storage manufacturer in the world. Mr. Hootselle has presented his views on modern technology advances at over 45 technology conferences and is the host of the Disruptive Technologies Tour.
Held October 10th at the Cobb Galleria, the 2018 Georgia Manufacturing Summit is expected to attract over 800 attendees from across the Southeast and will be focused on the Aerospace Industry, the number one export for the state of Georgia. Mark Burns, President of Gulfstream, and Eric Rojek, V.P. of Sales & Marketing for Thrush Aviation will be this year's keynote speakers. It is Georgia's manufacturing event of the year and allows attendees to make face-to-face connections with other manufacturers, customers, service providers, and suppliers. In addition to the keynote presentations, this event will have over 30 of the top industry leaders provide educational workshops to discuss Disruptive Technologies, Financial Perspectives, International Manufacturing, Sales & Marketing, Supply Chain Trends, and Workforce Development. To learn more and to register: http://www.GeorgiaManufacturingSummit.com
About the Georgia Manufacturing Alliance:
The Georgia Manufacturing Summit is a tradeshow produced by the Georgia Manufacturing Alliance (GMA). GMA is a membership-based industry organization founded in 2008 to support Georgia's manufacturing community. GMA provides monthly plant tours, educational sessions, tradeshows, and unique networking opportunities designed to help make profitable business connections for its members. The Georgia Manufacturing Directory, Georgia Manufacturing Summit, Georgia Manufacturing Calendar, and BuyFromGeorgia.com are additional resources produced by GMA. To learn more about the organization, membership, and upcoming events, please call 770-338-0051 or visit their website http://www.GeorgiaManufacturingAlliance.com.