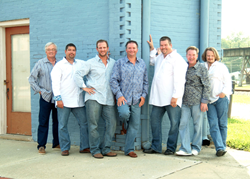 Rocky Mount, NC (PRWEB) May 08, 2014
For the past six years, the Edgecombe Community College Foundation has hosted a beach music festival to raise funds for student scholarships. Though the event has changed slightly this year with the addition of a food truck rodeo, organizers say the focus remains the same.
"It's all about people coming out and enjoying good entertainment, good food and good atmosphere for a good purpose," says Curtis Edmondson, an ECC Foundation board member.
This year's Beach Music Festival and Food Truck Rodeo are scheduled to run from noon to 6 p.m. Saturday, June 7 on Edgecombe Community College's Tarboro campus. Gates open at 11 a.m.
In addition to a shag contest starting at 3:30 p.m., the long-awaited raffle drawing for the guitar signed by Taylor Swift when she performed at the college in 2008 will be held at 5 p.m. The winner also will receive a CD and photos with Swift's autograph.
Luke Vail of 107.9 Sunday on the Beach radio show is back as the festival's emcee this year. The lineup of bands includes Steve Owens and Summertime, the Holiday Band and the Carolina Breakers.
"We've got three really good, dynamic beach music bands," Vail says. "It's not a matter of who goes first or who goes last – we've got three headline bands."
According to Vail, it's not just the entertainment that makes the ECC Foundation festival a one-of-kind event. "The venue, food and cause also make a difference," he added.
"Out of all the festivals I've been to – and I've been to a lot, this one is pretty special because it's held on such a beautiful campus. It really adds quite a bit," Vail explains. "Also, this event has high-quality food vendors, and all the proceeds are going to education. That's what makes our festival special."
New this year is the Food Truck Rodeo. Regional and international cuisines will be represented, in addition to a few specialties, including gluten-free and sugar-free foods, ice cream, fresh squeezed juices and fried pickles.
The Beach Music Festival is one of two major fundraisers sponsored annually by the ECC Foundation. According to Karen Andrus, executive director, the previous five festivals have raised a total of more than $40,000.
"Our focus is on scholarships," Andrus says. "This year, we will award 100 scholarships to deserving Edgecombe Community College students."
Tickets for the festival cost $15 in advance or $20 at the gate. They can be purchased online at http://www.etix.com; in Rocky Mount at Bailey's Fine Jewelry; or in Tarboro at the Blount-Bridgers House, Tarboro-Edgecombe Chamber of Commerce, Edgecombe County Memorial Library, Southern Bank, Providence Bank, Tarboro Savings Bank and Edgecombe Community College.
Sponsors for this year's festival include Keihin Carolina Systems Technology; PNC Bank; Cummins Rocky Mount Engine Plant; Boddie-Noell Foundation; ABB, Inc.; Barnhill Contracting; Wells Fargo; and Twin County Motorsports.
For more information on the Beach Music Festival and Food Truck Rodeo, contact Karen Andrus at (252) 823-5166, ext. 212, or andrusk(at)edgecombe(dot)edu.
About the company:
Steady growth and expanding impact have characterized Edgecombe Community College as it has evolved from one small building in 1968 into a multi-campus institution with campuses in Tarboro and Rocky Mount, North Carolina. The college helped meet the educational and training needs of about 13,000 individuals in the community last year. This included the implementation of distance learning and online courses to reach students with travel and time barriers. Throughout, their strength is and will remain putting the needs of students first. For more information, visit http://www.edgecombe.edu/.