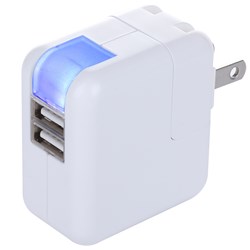 The Quickest & Easiest Way To Charge Apple & Other Smart Devices!
(PRWEB) February 21, 2014
It is no surprise that dual USB chargers are now becoming a necessity of everyday life with the growth of commonplace chargeable devices. A new charger from Ditto Oops has been released in conjunction with Amazon to help deal with the demand for a universal appliance able to simultaneously charge smartphones, iPads, iPods, PSPs and just about any other USB device.
The Ditto Oops charger offers many features, such as:
Double Charging Technology: Quickly charge two appliances at the same time, the dual charger will also charge one device as normal.
Protection Circuitry: monitors over-heating, over-current and over-charging to prevent valuable appliance from being damaged.
Compact size and lightweight: weighing less than 0.3 ounces, making it equally useful for business travelling, holidays etc.
2.1A 5V/50-60HZ power output: This ensures to charge any devices in the minimum amount of time.
LED indicator: A subtle blue LED indicator is used rather than the standard obtrusive red LED.
Given the expensive price of standard wall socket charging adapters from large technology retailers, the Ditto Oops Dual USB charger offers the Outstanding Value 2 Port Battery Charger

Excellent Manufacturing Quality, Sleek Design, Lightweight and Compact.
Charges 2 Smart devices simultaneously. Eliminate the need for separate chargers for each device.
Soft Dimming Blue LED indicator.
This is a huge advantage in the fast-paced work environment and also allows for constant connectivity, whether in day-to-day living, while away from home, during holidays etc.
Ditto Oops Brand have provided a coupon code of AMXBOECU to allow Amazon customers to purchase the new device for about one month starting Tuesday Feb 20 for only $9.90. The product normally retails for $15.99 and can be purchased at Amazon.com.
The Ditto Oops charger has gotten 100% 5-star reviews on Amazon.The production is also released in conjunction with Amazon who will fulfill the full lifetime guarantee that comes with all chargers.
To make life that little bit simpler take advantage of this one-off offer and follow the link below to purchase the Ditto Oops Dual USB charger at the exclusive price of $9.99 with coupon.
Click link to get this Dual USB Charger now and Life will get more easier with Ditto Oops.