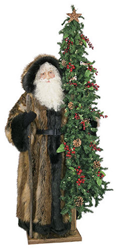 Ditz Designs life-size Father Christmas Santa figures and lighted bear trees have long been top sellers online and in our retail store during the holiday season. We love the realistic features, faux fur details and the decorative embellishments.
Duluth, GA (PRWEB) August 20, 2014
Peace, Love & Decorating, a top home decor and holiday retailer, is pleased to announce the Ditz Designs Father Christmas Santa figures with lighted Christmas tree. In addition to the Father Christmas Trees, Peace, Love & Decorating offers the Ditz Designs bear trees, standing bears and animal footrests with free shipping within the continental United States.
Inspired from the creative and imaginative mind of Joy Ditz, R.N., these unique life-size Father Christmas figures are hand assembled in the United States. With the utmost attention to detail, the face of each Father Christmas figure boasts surprisingly realistic features. These family heirlooms are designed to last for many generations and are embellished with faux fur trimmed coats and decorated Christmas trees inspired by nature.
A best-seller for the 2014 Ditz Designs Father Christmas collection is the Christmas Tracker which depicts a tall Father Christmas in a woodlands fur robe carrying a tree adorned with holly, pine cones and berries. Appealing to the adventurer, the Christmas Tracker Santa figure will bring wonder into your home during the holidays.
Another stand-out piece in the 2014 Ditz Designs Father Christmas collection is the Tuscany Christmas. Warm and reminiscent of a beautiful Italian Christmas, the Tuscany Christmas Father life-size Santa figure is decorated with a sage green underskirt, burgundy red coat with cream fur trim and is shown holding a lighted tree filled with pine cones, berries and cardinal birds. The giving spirit of St. Nicholas is evident in every fine detail of the 2014 Father Christmas collection.
Peace, Love & Decorating is also excited to present three new additions to the Ditz Designs Father Christmas collection. The life-size Star Gazer Santa with tree features St. Nicholas, clad in white, holding a lantern in one hand to help gaze up at the night sky and a tree in the other that is garnished with berries, cardinals and pine cones. The two other new additions to the Father Christmas collection, Birdwatcher and Fa-la-la, also show Santa Claus in his classic red suit with unique touches.
Located 30 minutes north of Atlanta, Georgia, in historic downtown Duluth at 3129 Main Street, Peace, Love and Decorating is a leading home decor and women's gifts boutique. The Ditz Designs Father Christmas Santa figures and bear trees are available online at peaceloveanddecorating.com or by special order through our retail store.