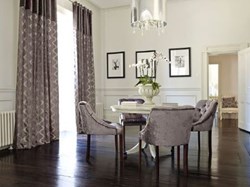 (PRWEB UK) 25 October 2013
Yorkshire-based Prestigious Textiles continues to delight with the unveiling of three new ranges in the design house's new autumn/winter 2013 collection, currently available from online fabric retailers and textile makers Curtains Made Simple.
Three of the latest collections include Emporium, Diva and Clifton. Both Emporium and Clifton boast Jacobean influences and in the case of the former a Moorish style in also in evidence. Both have elegant leanings and in the case of Emporium there is a definite touch of opulence. Diva, on the other hand, is striking, dramatic and an excellent example of digital printing epitomising the pop-art movement in all its glory.
Prestigious Textiles new autumn/winter 2013 range – which features a total of 17 stunning and innovative new collections – is a selection of co-ordinate plains, delicate embroideries, modern jacquards and dazzlingly colourful and bright repeat prints.
A spokesman for Curtains Made Simple said: "I defy everyone not to find something they love in the gorgeous new autumn/winter collection from Prestigious Textiles. As usual the company have produced a mix of incredibly beautiful and hard wearing fabrics – including fire retardant selections.
"The bright and boisterous Diva range is simply stunning and perfect for modern rooms. I'm pretty sure it will appeal to teenagers of both sexes too. Emporium is a very sensuous and tactile range with beautiful silks and velvets while Clifton, in grey and blue has a very tranquil feel to it but at the same time boasts a rich quality suited to living rooms and bedrooms."
The Emporium collection's heavy luxurious velvets and glimmering satins are ideal for made to measure curtains or Roman blinds, cushions, beanbags, seat covers and general upholstery. The fabrics are offered in a series of light, warm purple and plum shades – perfect for huddling indoors to as the nights grow colder.
There is nothing subtle about the Diva fabric collection on the other hand. This collection, in sturdy cotton, demands attention the minute it is displayed in a room with its racy reds, bold blacks and illuminated yellows in an arresting series of multiple and repeated images borrowed from pop's archives. It also contains large outsize floral illustrations, fun tropical designs and iconic 1960s transport such as the old British Mini in union jack colours and the period defining Vespa scooter. These are high-impact fabrics which are sure to enliven any living space.
Things calm down quite dramatically, however, with the heavy Clifton fabric collection from the design house, which this year celebrates 25 years in business. Like the Emporium collection, the Clifton fabrics also introduce a Jacobean edge with their large floral damask and ribbed plains in sedate and elegant shades of grey and blue. This is a collection which is perfect for a drawing room or dining room.
About Curtains Made Simple:
Curtains Made Simple is a made to order soft furnishings company with easy to use online ordering for curtains, roman blinds, cut length fabric, cushions, pelmets, bedspreads / throws, duvets covers, bean bags, tablecloths, curtain valances and fabric samples.
Curtains Made Simple has over 12,000 fabrics to choose from including fabric from Cath Kidston, IKEA, Cabbages & Roses, Susie Watson, Kate Forman, Linens from Ada & Ina, Clarke & Clarke and Prestigious Textiles.
Our aim is to provide the quality and personalised service of the high street with the prices of the internet.