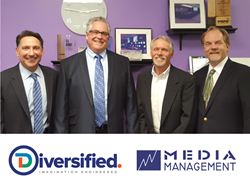 Joining the Diversified team allows us to expand our services and technology solution sets with global partners in all major markets.
Kenilworth, NJ and Dallas, TX (PRWEB) October 25, 2016
Diversified, a national solutions provider of presentation A/V, IT, broadcast, healthcare, and managed services, announces the acquisition of Dallas, TX based Media Management. The company brings a strong reputation, market share, and expertise in corporate A/V, healthcare, IT design, and integration services in the southwest region. Their expertise in corporate A/V, healthcare A/V-IT, architectural collaboration, technical planning and designing, along with a talented and experienced integration staff, contribute to Diversified's already expansive portfolio of services.
Given the unique and diverse requirements of their national enterprise, educational, healthcare and house of worship clients, local designing, project management expertise, and support is a must. This new location not only adds skilled team members to the Diversified roster of industry veterans but also meets the growing demand for technology solutions in and around the Dallas area. With the existing regional office in Houston, Diversified will be able to provide an unprecedented level of support in the southwest region.
"We are extremely excited that our team is joining Diversified. After growing our business serving clients for nearly two decades, we have developed strategic relationships as our customers' trusted partner, providing unique solutions in challenging environments," says Scott McMullan, Founder, Owner and President, Media Management. "Joining the Diversified team allows us to expand our services and technology solution sets with global partners in all major markets,"
"As a trusted advisor, our clients demand expert solutions in literally every aspect of their technological business process," adds Bob Dungan, Owner and General Manager, Media Management. "Diversified's engineering disciplines in every manner of planning, A/V, broadcast, IT, and manage services allow us to provide our clients a complete solutions offering wherever they need communication and collaboration technology." As Senior Vice Presidents, Mr. McMullan and Mr. Dungan will join Diversified executive management to integrate the Media Management team members into Diversified's operations.
"Building the best and most dynamic technology company in our industry has been my goal for over 20 years," says Fred D'Alessandro, Chairman and CEO of Diversified. "To do that you need a great team, and Scott and Bob have built a strong and talented team and corporate culture that is perfectly suited to serve our clients. The healthcare practice is especially important as we grow in that key vertical. Further, this merger enables Diversified to immediately build on our portfolio services by leveraging the knowledge and experience of years in business focused on delivering best in class solutions."
About Diversified
Diversified is an industry leader in custom solutions and managed services for a broad spectrum of media delivery challenges. They specialize in the use of technology for complex and scalable professional broadcast, corporate communications, experiential design and digital signage networks that provide businesses with the enhanced capability of creating, managing and monetizing original digital content.
For more information, visit http://www.diversifiedus.com.