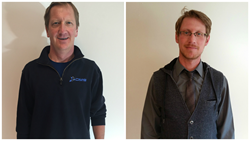 We are committed at DMS to always improving our customer experience. Hiring Greg and Jesse is another step we have taken to provide exceptional customer service to our clients-Vice President of Electrical Engineering Mike Grover
Colorado Springs, Colorado (PRWEB) January 15, 2016
Diversified Machine Systems (DMS), an Original Equipment Manufacturer (OEM) of DMS CNC Routers and Large Format Machining Centers, hires Greg Schultz & Jesse Soyk to play a major role in the DMS service group.
Greg Schultz is stepping into the Service Product Line Manager role at DMS. Greg attended school at Colorado State University where he earned his Information Systems BA. Upon graduation Greg began working at Hewlett-Packard and subsequently Verizon. Greg has extensive experience involving project management and process improvement.
Jesse Soyk will be responsible for Service Sales at DMS. This encompasses machine upgrades, retrofits, controller updates, as well as services in the new Advanced Manufacturing Center (AMC). Jesse has prior sales experience with his time at Hewlett-Packard and later X-IO Technologies.
Vice President of Electrical Engineering Mike Grover said, "We are committed at DMS to always improving our customer experience. Hiring Greg and Jesse is another step we have taken to provide exceptional customer service to our clients".
Diversified Machine Systems is also hiring technicians to further bolster their service group. If interested, send resume to servicetechs(at)dmscncrouters(dot)com
Learn more about Diversified Machine Systems at http://www.DMSCNCRouters.com.
ABOUT DIVERSIFIED MACHINE SYSTEMS
Diversified Machine Systems (DMS) is a leading designer and manufacturer of 3 Axis CNC Routers, 5 Axis CNC Machine Centers, and Large Format Machine Centers headquartered in Colorado Springs, CO. With more than 30 years of innovation and industry experience as an Original Equipment Manufacturer (OEM), DMS' line of CNC routers and machining centers are routinely used on materials such as wood, composites, aluminum, plastics and foams. Renowned for quality and precision, DMS advanced machining centers are engineered to increase efficiency and productivity, while maintaining the quality and precision leading manufacturers have come to expect.
Diversified Machine Systems was awarded the 2015 Governor's Excellence in Exporting Award, named a 2014 Colorado Company to Watch and ranked in the 2014 Top 250 Private Companies in Colorado.
Be sure to connect with us socially for the most current news:
Twitter.com/DMSCNCRouters
YouTube.com/DMSCNCRouters
Instagram.com/DMSCNCRouters
Facebook.com/DMSCNCRoutersandMachineCenters
Plus.Google.com/+DMSCNCRoutersandMachineCenters