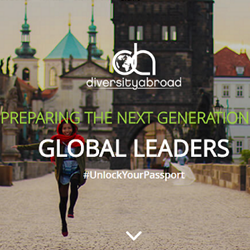 BERKELEY, CA (PRWEB) January 23, 2017
Diversity Abroad, is proud to announce the launch of its new online community, DiversityAbroad.com. The newly redesigned platform was developed to assist diverse and underrepresented students gain equitable access to global education opportunities and scholarships that will prepare them for academic and career success. Students can join the community and connect with other students, share their abroad stories with peers, and attend private events with companies that career opportunities that match their professional interests. Most importantly, they can use the "Match Me" feature to search for international, graduate, and career opportunities that aligns with their area of study and interest.
"Students overwhelmingly say that they want to participate in global programs during college. Too many students, especially from diverse and underrepresented backgrounds, unfortunately never get the opportunity to make this a reality. The DiversityAbroad.com community creates a one of a kind space where diverse and underrepresented students can learn from experts and each other about global education programs and how to leverage them for graduate school and carver opportunities and success." Andrew Gordon, CEO & Founder of Diversity Abroad.
While the new Diversity Abroad online community is designed to be more responsive and allow student direct access to quality resources, the organization has also partnered with various U.S. and international higher education institutions, employers, and government agencies to develop opportunities that resonates with ethnically, culturally and economically diverse students. With this platform now live, Diversity Abroad is reinforcing its powerful mission: to ensure that students from diverse economic, educational, ethnic and social backgrounds are aware, have equal access and take advantage of the benefits and opportunities afforded through global education exchanges.
About Diversity Abroad:
Diversity Abroad is the leading global education organization dedicated to increasing international mobility among students and young professionals. Diversity Abroad strives to equip the next generation of young people from diverse and underrepresented backgrounds with the skills and experiences to compete in the 21st century global marketplace by having equitable access to meaningful global education opportunities. Learn more at http://www.diversityabroad.com.