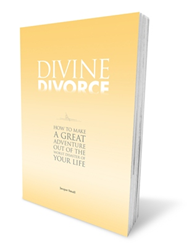 Too many people are suffering from emotional trauma believing time heals all, especially when new technology exits to heal emotional pain quickly.
Vancouver, British Columbia (PRWEB) April 30, 2014
Jacque Small is extremely pleased that Divine Divorce, How To Make A Great Adventure Out Of The Worst Disaster Of Your Life reached the top 100 list this past weekend for relationship breakup books on Amazon.com's 100 list of breakup books receiving a four star or better rating.
Small's book has also received positive reviews and testimonials from readers who have posted on Amazon.
One early reader of Divine Divorce states it "is one of the best and most comprehensive self-help books I have read over the years."
Jacque Small believes this is because the book contains hundreds of question to explore many aspects of your life, including your relationship. Divine Divorce not only contains many key concepts for a successful relationship, it gives you the top principles for leading a successful life. One reviewer stated, "It gives practical tools that can be used by anyone to enhance the quality of their life."
Jacque Small states "the new Emotional Hot Button Removal Techniques are Divine Divorce's crown jewel and set it apart from other self-help books. These phenomenal techniques permanently clear away the underlying cause of emotional pain quickly and easily."
To make this a valuable guide for anyone going through emotional trauma and transition, Small packed the book with well known tools from the personal development world.
Satyen Raja stated "Divine Divorce is much more than a book. It is a treasured friend to hold your tender heart through trying times."
The book is chocked full of heart rendering stories from Jacque and many other people as they journeyed through relationship challenges. Jacque shares her inner most secrets of healing from the shame of sexual abuse, grief and the fear of being alone. It is her vulnerability that speaks to the heart of readers.
"I plan to send this book to friends who are in troubled relationships or those who just want to improve the relationship they currently have."
"Whether you or a friend is in a crisis of any kind (not just a physical divorce) or if you just want to improve the quality of all your relationships, state of mind and physical or emotional well being and live a happier life, this book is for you."
This reviewed summed up Divine Divorce best, "Positive change in our lives is possible and Jacque Small leads you through the steps to take in a straightforward and easily to comprehend guide."
About Jacque Small
Jacque Small is passionate about supporting people to end the suffering in their lives with practical, easy and effective tools that create change quickly.
Since 2000, she has coached individuals in both business and personal capacities, plus delivered seminars to enhance leadership and team effectiveness. It is her unique ability to find practical tools that result in rapid and dramatic change that has contributed to her success.
Small moved from Vancouver, British Columbia, Canada to Progreso, Yucatan, Mexico where she has developed the Abrazarse Life Retreat Center. Abrazarse means "embrace" in Spanish and this is exactly what she helps people do, embrace their ideal life.
Small received her Master's Degree in Economics from Simon Fraser University and holds a Chartered Financial Analyst's professional designation. She left the world of finance to embark upon a journey to find happiness. After ten years she has finally found peace and happiness. Her mission is to substantially shorten this learning curve for others. Small can be contacted at http://www.yourdivinedivorce.com.