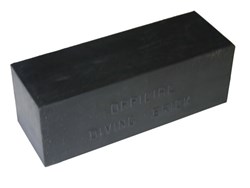 A perfect diving brick for training
Dallas, TX (PRWEB) January 28, 2014
Just like when someone wants to practice lifting heavy weights, they go to the gym; a lifeguard trains with a diving brick. Diving bricks give a lifeguard the type of weight and resistance they need to help them become more advanced when swimming. Being a good swimmer is one important skill, however, when carrying a victim back to shore through high current is something in a completely different skill field. For this important reason, the popular lifeguard supply company, Lifeguard Master, now sells diving bricks to help lifeguards gain that skill.
Diving bricks are used for two main reasons. One way to use a diving brick is for the lifeguard to hold it above their head while treading water. The second way to use a diving brick is to set it at the bottom of a pool for a lifeguard to retrieve it. Diving bricks offered by Lifeguard Master are 100 percent rubber which makes them safe to use in a swimming pool. For more information, please go to: http://www.lifeguardmaster.com/diving-bricks-diving-rings-and-diving-manikins
Diving bricks are perfect for both training and recreational purposes and the best part is that they are safe for the bottom of the pool. Lifeguard Master always ensures professional and high-grade quality items so these diving bricks are made from a hard rubber material having a weight of 10 pounds. To view a clip of the diving brick video, please click on http://www.youtube.com/watch?v=WRKatVdQ3pI
The products meet both TMCA and American Red Cross standards allowing them to be used for professional training. Currently there are three main diving products available at Lifeguard Master. These products include diving bricks, diving rings, and a diving and training manikin.
Diving Brick
This diving brick is perfect for training and can be used while treading water, while swimming, and to retrieve from deep pools. Lifeguards can practice their time going from the surface of the pool to the bottom, allowing for training and improvements. An important tool for strength training, this diving brick serves a multitude of purposes. To view a large photo and a video of this, please go to: http://www.lifeguardmaster.com/products/DivingBrick
Diving Ring
A little different than the diving brick, the diving ring is five inches wide and made of 100 percent rubber and is also great for recreation or training purposes. Each ring weighs a third of a pound allowing for a rescuer to practice getting multiple rings at the bottom of the pool.
Diving and Training Manikin
This manikin is a diving and training manikin. Ideal for training, this manikin is ideal for any aquatic training organizations as a training aid. The towing weight is designed to mimic the weight of an average person and is great for endurance training. The manikin is great for pre-test preparation and is maintenance free. This manikin is virtually indestructible and weighs about 20 pounds.
When a person is a certifiable lifeguard, lifeguards have to have solid diving skills since not every rescue happens at the surface level. Since made of rubber, these bricks will not damage swimming pool walls or bottoms and are made to be used for extended lifespans.
These bricks, rings and manikin can be used for different levels of swimmers and different ages. Since requiring to bring the brick back to the surface can be difficult for lifeguard certification, it is important to practice with these tools before. Other weights are not similar to what is used for testing requirements and can damage the pool.
During testing, the swimmer will usually have to swim about 20 yards to the brick and then go seven to 12 feet under water to retrieve the brick. Swimmers then have to bring the diving brick back to the surface to the starting point. Different swimming strokes and kicks will be used to practice while holding the brick, hands are not free.
This test can be difficult because the diving brick will often try to weigh the swimmer down more. Swimmers in the test often use two hands and have to just use their legs to propel them through the water. This test must also be completed in a certain time frame, usually about 100 seconds.
It can take a while to get used to training with the diving brick, which is why it is important to practice before the test. This is required to become a certified lifeguard so accuracy, endurance, and strength are important skills to pass this test.
At Lifeguard Master, customers will see they receive quality products at reasonable prices. One of the most popular qualities of Lifeguard Master is their speed of shipping. Many clients comment that they cannot believe how quickly they receive their products.
For more information on these diving tools or to see what other products Lifeguard Master supplies, visit LifeguardMaster.com. You can also visit their sister site at: http://lifeguardshirt.com/divingbrick/
Lifeguard Master strives to provide excellent customer service and makes customers a top priority. Along with diving bricks, Lifeguard Master also supplies a variety of other essential emergency responder items. These first responder items include CPR pocket masks, first aid kit, spine boards and head immobilizers, whistles, rescue tubes, cans, buoys, and more.
Lifeguard Master has been in the emergency and life saving industry for many years. Sammy, the owner and founder of Lifeguard Master has been a lifeguard himself for 7 years. He knows the importance have having all the equipment readily available for a first responder, and through the years has built a quality emergency supply store to accommodate for the anticipating needs of first responders around the country and around the world. Lifeguard Master's determination to excellence and rescue safety has quickly made it a leader in its industry. For more information, please give us a call, send us an e-mail or visit our website. Also to stay updated with the latest news in emergency supplies, please visit our forum where rescue professionals from around the country and world stay connect, and post the latest emergency news at LifeguardsOnline.com. Please click on:
Sammy
Lifeguard Master
(714) 605-3090
http://LifeguardMaster.com