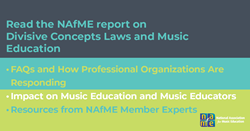 NAfME advocates for a comprehensive music education that encompasses the breadth and depth of all music styles, genres, composers, historical backgrounds, and more.
RESTON, Va. (PRWEB) March 31, 2023
On March 31, 2023, National Association for Music Education (NAfME) released a comprehensive report on "Divisive Concepts Laws and Music Education," after nearly two years of discussion and research. As defined in the 65-page report, Divisive Concepts Laws (DCL) are legislative and executive orders that seek to restrict teaching, professional learning, and student learning in K–12 schools and higher education regarding race, gender, sexuality, and U.S. history. Since late 2020, a number of these legislative and executive actions have been proposed and enacted across the United States, and individuals and groups have reported adverse effects on teachers, students, and educational programs.
"As NAfME began researching the impact of Divisive Concepts Laws, we observed their direct opposition to NAfME's mission and beliefs," stated NAfME President Scott R. Sheehan. "NAfME's belief statement is: 'Music is unique to the human experience and is essential to our humanity.' It further specifies: 'Music communicates and connects people across all time and cultures. Music unlocks human creative expression and is a lens to the experiences and interpretations of the world. Music is basic to human wholeness through our emotions, intellect, and physical and spiritual well-being.'"
Sheehan continued, "NAfME believes that every student has a right to music education as part of a 'well-rounded education' as defined in the Every Student Succeeds Act and that music education should reflect the culture and community in which learning takes place. Further, NAfME advocates for a comprehensive music education that encompasses the breadth and depth of all music styles, genres, composers, historical backgrounds, and more."
"Music allows us to celebrate and preserve our cultural heritages, and also to explore the realms of expression, imagination, and creation resulting in new knowledge," added Karen Salvador, lead author of the report and Associate Professor and Chair of Music Education at Michigan State University. "Therefore, every individual should be guaranteed the opportunity to learn music and to share in musical experiences."
"The intent of this report," continued Salvador, "is to provide information and resources to the music education profession about where and how these laws are impacting music curriculum and instruction as well as the music teacher workforce. Various external influences have impacted music education, and NAfME is responding by gathering factual information and providing resources to members, supporters, and advocates so they are aware and can make appropriate decisions based on their individual circumstance."
The NAfME National Executive Board began discussion of DCL in fall of 2021, followed by a presentation to national and state association leadership at the June 2022 NAfME National Leadership Assembly on DCL content and possible impact. In the second half of 2022, section authors began work on resources to guide music educators and education leaders. A meeting with NAfME members and other music educators and interested parties was held, followed by a survey and educator story collection in the fall of 2022. NAfME leadership shared an overview of the report with NAfME members during a town hall on March 20, 2023.
This work culminated in the release today of NAfME's report on "Divisive Concepts Laws and Music Education." The report is organized in three sections:
1. FAQs on DCL and how other professional organizations are responding
2. A summary of responses to a survey regarding DCL and their impact on NAfME members' teaching, illustrated with stories from selected members
3. Information and resources from NAfME member experts regarding navigating local and state policies, culturally responsive pedagogy, repertoire diversity, social and emotional learning in music, gender and sexuality in music classrooms, and music teacher recruitment and retention
To read the report and related resources, please visit: https://bit.ly/DCLMusicEducation.
NAfME would like to thank Karen Salvador, Michigan State University, with contributing authors (in alphabetical order): Joseph Abramo, University of Connecticut; Cara Faith Bernard, University of Connecticut; Andrew Bohn, Michigan State University; Deborah A. Confredo, Temple University; Ashley Cuthbertson, A. Cuthbertson Consulting; Rob Deemer, State University of New York at Fredonia; Rollo Dilworth, Temple University; Suzanne N. Hall, Temple University; Benjamin C. Helton, Case Western Reserve University; Anne Martin, Michigan State University; Nicholas R. McBride, The College of New Jersey; Constance L. McKoy, The University of North Carolina at Greensboro; Saleel Menon, Michigan State University; Lorenzo Sánchez‐Gatt, Michigan State University; William R. Sauerland, Purdue University Fort Wayne; Ryan D. Shaw, Michigan State University; and Stefanie Weigand, Music‐COMP.
###
The National Association for Music Education (NAfME) is a collaborative community that supports music educators and advocates for equitable access to music education. The only association that addresses all aspects of music education, NAfME, together with its affiliated state music education associations, advocates at the national, state, and local levels and provides resources and opportunities for teachers, students, parents, and administrators. Founded in 1907 and representing more than 53,000 members teaching millions of students, NAfME advances the music education profession and promotes lifelong experiences in music.
Follow NAfME on Twitter and on Facebook. For additional information, contact Catherina Hurlburt at catherinah@nafme.org or 571-323-3395.