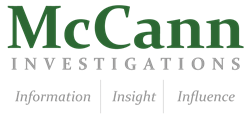 A thorough background investigation is perhaps the most important step in a divorce case.
Houston, TX (PRWEB) April 01, 2014
McCann Investigations, a firm based in Texas that offers high-quality digital security and private investigations services throughout the state, announced the availability of its divorce case services, including the thorough background investigations performed in those cases. Social media sources have become key in gathering background intelligence in divorce cases. Through social media mapping, relationships can be diagramed in order to support divorce litigation allegations.
These background investigations are the first step that McCann's investigators use to create a clearer picture of the investigation target. By researching a target's personal history to find information such as prior criminal charges or a history of abuse or negligence could have a significant impact on the methods and approach used throughout the rest of the case.
"A thorough background investigation is perhaps the most important step in a divorce case," said Daniel Weiss, Managing Partner at McCann Investigations. "Depending on the finding of this investigation, the client could become privy to a much more favorable result in the case."
Once McCann's Houston investigators have identified the nature of the problem and any information provided by the client about the target, they get to work on the actual background research. The investigators begin with researching criminal records, work history, civil issues, relationship history and anything else that may be of use in a divorce case. They also use the latest technologies to trace the target's digital footprint, searching for evidence that could have been left behind in social media, emails, texts, photos and more.
According to Weiss, this evidence is absolutely crucial in determining whether the client will get the settlement for which he or she is aiming.
"Our investigators understand the emotional nature of divorce cases, and the weight that their findings can bear when it comes to the result of our clients' cases," said Weiss. "Every one of them is 100 percent committed to providing efficient, high-quality service and client satisfaction."
For more information about the services provided by McCann Investigations in the Houston area, visit the company's website at http://www.mccanninvestigations.com and follow the company on Twitter at @mccangi.
About McCann Investigations
McCann Investigations is a Texas-based private investigations practice focused on comprehensive investigations incorporating digital forensics, surveillance, undercover work and background checks for clients in various case types. Service areas include intellectual property theft, non-compete enforcement, fraud, embezzlement and family law. McCann Investigators are experts in the latest computer forensics tools and are licensed with the state of Texas. McCann examiners have provided expert testimony and reporting in hundreds of cases across the state.