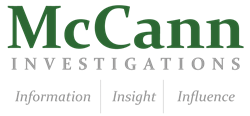 Austin, TX (PRWEB) May 03, 2014
McCann Investigations, a trusted digital security and private investigations agency that operates throughout the state of Texas, announced that it uses some of today's most up-to-date technology to assist in its Austin divorce investigations.
Private investigators are most commonly used in divorce cases to track the activities of the client's spouse and uncover evidence of spousal abuse, child abuse, adultery, drug or alcohol abuse and any other unsavory behaviors. The evidence found in these cases can lead to more favorable divorce settlements or litigation results for the client. However, these investigations often require the use of cutting edge technology.
"We are completely devoted to the needs of our clients in Austin divorce cases, and want to help them move forward from this difficult time as quickly as possible," said Daniel Weiss, Managing Partner at McCann Investigations. "The technologies we use are perhaps the biggest reason why we are able to uncover the evidence our clients need within a relatively short amount of time."
One of the most common methods that McCann's Austin investigators use in divorce cases is surveillance. By using covert surveillance and remote viewing tools, the investigators can track the everyday activities of the target and find evidence of illicit acts as they perform them.
The investigators also conduct extensive digital forensics reviews of computers and mobile devices, searching through emails, texts, GPS information, notes, documents and more for any evidence of spousal misbehavior.
"Our investigators are pleased to offer their expert services in your case, and can be trusted to provide the best possible results in your case," said Weiss. "We encourage you to take advantage of these services so that you can find a positive result in your case and solidify the future for you and your children."
For more information about the services provided by McCann Investigations in the Austin area, visit the company's website at http://www.mccanninvestigations.com and follow the company on Twitter at @mccangi.
About McCann Investigations
McCann Investigations is a Texas-based private investigations practice focused on comprehensive investigations incorporating digital forensics, surveillance, undercover work and background checks for clients in various case types. Service areas include intellectual property theft, non-compete enforcement, fraud, embezzlement and family law. McCann Investigators are experts in the latest computer forensics tools and are licensed with the state of Texas. McCann examiners have provided expert testimony and reporting in hundreds of cases across the state.