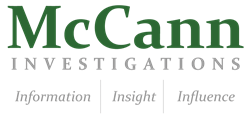 Austin, TX (PRWEB) May 07, 2014
McCann Investigations, a firm based in Texas that provides trusted digital security and private investigations services, announced that it uses thorough background investigation services to assist in divorce investigations.
Background analyses are of particular help during divorce cases because they help to give an idea of the type of person that they are investigating. These background checks could reveal drug or alcohol abuse, adultery, child or spousal abuse and much more. All of these issues could have a major impact on what outcome a client can expect in their divorce settlement or litigation.
"Background checks are extremely important in divorce cases, because courts will give a long, hard look at a person's history before making important decisions in a divorce arrangement," said Daniel Weiss, Managing Partner at McCann Investigations. "By thoroughly researching the history of our clients' spouses, we can give them a much better chance of a solid future for their family."
McCann's Austin investigators pore over information such as criminal records, civil issues, the history of the relationship with the spouse and the target's demonstrated ability as a parent, as well as anything else that could factor into a divorce case.
Evidence impacting the case can also be found on digital devices like smart phones and computers. McCann's investigators are greatly skilled in digital forensics tactics, and gather intelligence from emails, texts, social media, photos and documents to use in their investigations.
"We want to help you through your divorce as quickly as possible," said Weiss. "We understand the emotional nature of these cases, so we dedicate ourselves to providing the highest quality of client service possible."
For more information about the services provided by McCann Investigations in the Austin area, visit the company's website at http://www.mccanninvestigations.com and follow the company on Twitter at @mccangi.
About McCann Investigations
McCann Investigations is a Texas-based private investigations practice focused on comprehensive investigations incorporating digital forensics, surveillance, undercover work and background checks for clients in various case types. Service areas include intellectual property theft, non-compete enforcement, fraud, embezzlement and family law. McCann Investigators are experts in the latest computer forensics tools and are licensed with the state of Texas. McCann examiners have provided expert testimony and reporting in hundreds of cases across the state.