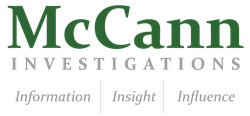 A person's entire future could rest on the results of a divorce investigation.
Houston, TX (PRWEB) March 06, 2014
McCann Investigations, a firm based in Texas that provides high-quality private investigations and digital security services, announced that it offers divorce investigation services powered by the latest technologies.
Divorce investigations are often used to find evidence of adultery or other misbehavior in a relationship. McCann's Houston private investigators use a variety of tools and methods to hunt for evidence in these types of investigations with the goal of providing clients with irrefutable evidence that can be legally used in the court of law.
"A person's entire future could rest on the results of a divorce investigation," said Daniel Weiss, Managing Partner at McCann Investigations. "Our investigators have the latest technologies available to them to help them discover important pieces of information that can lead to a positive outcome in divorce proceedings."
McCann Investigations has a variety of technologies that it uses in these types of cases, including covert surveillance and remote viewing technologies, forensic analysis tools for both computers and mobile devices and more. The agency's analysts also use a variety of traditional tactics to offer a well-rounded analysis.
These technologies are particularly important in divorce cases, as spouses who may be trying to hide their misbehavior could leave evidence behind in digital trails. Many people mistakenly leave behind text messages, social media posts, bank account information, emails and more that they did not properly delete, which give investigators the information they need to reach a conclusion in the case.
"We understand that divorce investigations are an emotionally turbulent time for our clients, and we do our best to complete these investigations as efficiently and effectively as possible to give our clients the ability to move forward," said Weiss. "We are completely dedicated to providing extraordinary levels of service."
For more information about the services provided by McCann Investigations in the Houston area, visit the company's website at http://www.mccanninvestigations.com and follow the company on Twitter at @mccangi.
About McCann Investigations
McCann Investigations is a Texas-based private investigations practice focused on comprehensive investigations incorporating digital forensics, surveillance, undercover work and background checks for clients in various case types. Service areas include intellectual property theft, non-compete enforcement, fraud, embezzlement and family law. McCann Investigators are experts in the latest computer forensics tools and are licensed with the state of Texas. McCann examiners have provided expert testimony and reporting in hundreds of cases across the state.