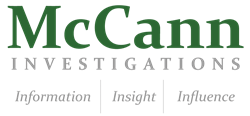 We understand the stressful and emotional nature of divorce proceedings and we want to help you move forward.
San Antonio, TX (PRWEB) April 06, 2014
McCann Investigations, a Texas-based firm that provides high-quality digital security and private investigations solutions throughout the state, announced that it provides divorce investigations aided by some of today's most impressive technologies.
Many individuals use private investigators to track the activities of their spouse and to try to find evidence of spousal misbehavior, such as adultery, child abuse, drug or alcohol abuse and more. McCann's San Antonio investigators have a wide variety of high-tech tools available to increase the efficiency of these investigations so that clients can have proof of their spouse's actions and get through divorce proceedings as quickly as possible.
"We understand the stressful and emotional nature of divorce proceedings, and we want to help you move forward," said Daniel Weiss, Managing Partner at McCann Investigations. "The evidence that we provide, thanks to the great technology that we have available to us, can be an incredible asset to your attorney as you work to get through your divorce quickly and smoothly."
There are two main methods that McCann's investigators use in divorce investigations, the first of which being surveillance. Covert surveillance technologies and remote viewing tools give investigators the ability to track the activities of the investigation target. It is possible to catch the target in the act by using these tools.
The second method is digital forensics analysis. Many people mistakenly leave behind evidence of their crimes or misbehaviors on their own computers of mobile devices. McCann's investigators are well-trained in evidence extraction methods for these devices, and comb through emails, photos, texts, GPS information, notes and more to obtain evidence that could be helpful in your case.
"Our investigators are committed to providing extraordinary service to all of our clients in their time of need," said Weiss. "Let us guide you through this difficult time with our high-tech investigation services."
For more information about the services provided by McCann Investigations in the San Antonio area, visit the company's website at http://www.mccanninvestigations.com and follow the company on Twitter at @mccangi.
About McCann Investigations
McCann Investigations is a Texas-based private investigations practice focused on comprehensive investigations incorporating digital forensics, surveillance, undercover work and background checks for clients in various case types. Service areas include intellectual property theft, non-compete enforcement, fraud, embezzlement and family law. McCann Investigators are experts in the latest computer forensics tools and are licensed with the state of Texas. McCann examiners have provided expert testimony and reporting in hundreds of cases across the state.