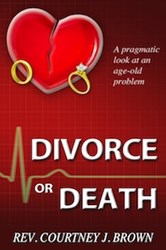 "Divorce or Death" is the ultimate must have for a pastor or leader in the church who is responsible for marriage counseling or seminars.
Far Rockaway, Queens, NY (PRWEB) December 19, 2013
"What really terminates marriage vows: is it divorce or death?" "How can couples ensure that their marriage is divorce proof?" As readers thumb through the pages of Reverend Courtney J. Brown's new book, 'Divorce or Death', they will find the answers to these questions and more, written from a biblical, pragmatic perspective.
Pastors get to meet wonderful people, which allow them unique access into their personal lives. One of the greatest human needs is the need for relationship and eventually people are going to seek the advice of a pastor. One of the important roles of spiritual leadership is to help couples or prospective couples, work through their issues so that their lives will give glory to God. This book, "Divorce or Death" is the ultimate must have for a pastor or leader in the church who is responsible for marriage counseling or seminars.
Readers of all ages will gain valuable insight from this book. Whether a young person who wants to understand a little about marriage before jumping in, or is already planning to get married, or those who have been divorced and are thinking, what now? Is my love life over? Or a couple that is struggling in their marriage trying to make it work, look no further.
To request a review copy of this e-book, or to arrange an interview with the author, please contact:
Name: Courtney Brown
E-mail: cjbrownministries (at) yahoo (dot) com
Tel: 718 450 4827
About Reverend Courtney J. Brown
Courtney Brown is Senior Pastor of Upper Room International Ministries, located in Far Rockaway Queens, New York. He is also president and CEO of "The Community Bridge Inc.", a non-profit organization helping to reform the Rockaway community through various family initiatives.
Born in Manchester, Jamaica West Indies, Courtney Brown migrated to the United States at the age of 12 years old. His personal story is one of triumph over trials and can be felt in the way he inspires readers to persevere through all circumstances.
His first book entitled "JOINED A Levitical Perspective of the church", received good reviews. Courtney draws on his seventeen years of pastoral experience, dealing with all types of marital issues to produce his second book, Divorce or Death".
Through his dynamic preaching and insightful teaching, thousands of lives have been affected. Courtney now resides in Long Island, New York with his wife and two children.
About eBookIt.com
Since 2010, eBookIt.com (based in Sudbury, Massachusetts) has helped thousands of authors and publishers get their books converted to ebook format, and distributed to all the major ebook retailers, including Amazon.com, Barnesandnoble.com, Apple iBookstore, Kobo, Sony Readerstore, Ingram Digital, and Google eBookstore.