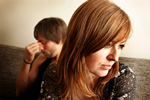 Complimentary Case Evaluations - Divorces starting at $499 and up
Buford, Georgia (PRWEB) November 24, 2015
Tom Cain's new program, Ease The Tension of Divorce, is rolling out in November immediately after Thanksgiving. Divorce is a sensitive family issue that can be very complicated and painful depending on the circumstances of the divorce. Having this separation is already an experience full of pain and at the end of the day, completely exhausting and emotionally draining. Clients need a divorce lawyer (http://tomcainatty.com/) that have their best interest and who will legally pursue their legal interests. These interests can be anywhere from child custody and visitation rights to alimony and the equitable division of the couple's property and assets.
Life cannot cease when there is a divorce in motion. Someone needs to pay the mortgage, pay the bills & any vehicle leases. How about legal custody of any children and who gets to stay in the house, as well as who needs to find other accommodations? Having a skillful divorce lawyer will help to make these immediate decisions while being sensitive to everyone's needs. Only experienced divorce lawyers can handle child support which affects the entire family on every level. Tom Cain's lawyers protect their clients rights as well as the child's rights when it comes to custody agreements, visitation and child support.
Divorces can be even trickier when there is a family business involved. Dividing and protecting the business are also issues that these lawyers can tackle. With over 30 years of experience dealing divorce and other family matters, these divorce lawyers (http://tomcainatty.com/practice-areas/family-law/) will offer a free consultation, fight for you and get the best results in a timely fashion. Other industries that Tom Cain Attorney's at law handle include personal injury, probate and wills, criminal defense and personal injury.
To find out more about Tom Cain Attorney at Law and the divorce lawyer services provided by a family law attorney, go to http://www.tomcainatty.com.
About Tom Cain - Attorney at Law
Tom Cain Attorney at Law (http://tomcainatty.com/) serves the people who are in need of legal services and representation in the state of Georgia. All of our attorneys are professional, highly educated and skilled at their craft in the various aspects of law including probate, criminal defense law, divorce, child support and child custody.
Tel: (770) 963-0289
Address: 805 Hi-Hope Road, Lawrenceville GA 30043
Complimentary Case Evaluations - Divorces starting at $499 and up (http://tomcainatty.com/free-case-evaluation/)