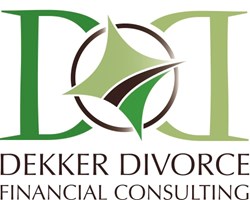 "My aim is to help couples stay out of court and in control of their financial decisions through divorce," says Meredith Dekker, CDFA™
Chandler, AZ (PRWEB) January 30, 2014
Dekker Divorce Financial Consulting is pleased to announce the launch of its website, dekkerdivorceaz.com. Meredith Dekker, the principal of Dekker Divorce Financial Consulting and a Certified Divorce Financial Analyst™, has been helping divorcing clients navigate the financial challenges of divorce since 2006. With this new business and website she will be better able to serve the needs of people going through the divorce process in Arizona.
"Divorce can be difficult to say the least and finances are a huge part of the divorce process," says Meredith. "My aim is to help couples stay out of court, if possible, and in control of their financial decisions through divorce. Working with a CDFA™ can give you more confidence that you are getting an equitable split and more peace of mind about your new financial future. Our new website will provide valuable information about working through the financial issues in divorce and help you get started."
Working with divorcing individuals and couples, attorneys and mediators, Dekker Divorce Financial Consulting focuses on divorce settlement planning, lifestyle analysis and tracings, to assist in achieving the most fair and financially equitable divorce settlement. Cooperation and collaboration are encouraged in the interest of finding good solutions for all parties before they go to litigation. When their clients face litigation Dekker Divorce Financial Consulting provides the solid analysis and supporting evidence needed.
In addition to her work as a Certified Divorce Financial Analyst™, Meredith has been an Investment Advisor Representative since 2002 and has her own financial planning firm, Dekker Financial Services, LLC. Meredith provides fee-based wealth management services and comprehensive financial planning. For her clients, she personally coordinates a collaborative team of professionals consisting of accountants, attorneys, insurance professionals and other experts. She also has a special interest in working with small business owners and professionals to find solutions and uncover hidden financial opportunities.