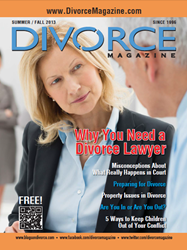 (PRWEB) September 06, 2013
Divorce Magazine's summer/fall 2013 issue looks at how individuals can properly prepare legally, financially, and emotionally when contemplating or going through divorce, and the long-term benefits of preparation for both the divorcing individuals and their children.
This issue examines the reasons for hiring divorce professionals to help with decision-making throughout the divorce. "The growing trend of self-representation in divorce may be a good thing for some individuals, but can be detrimental for others," commented publisher Dan Couvrette. "When you self-represent it may appear you are saving time and money, but there can be significant long-term consequences. Professionals are better trained and equipped to handle your legal and financial concerns, and they can offer advice on how various divorce settlement options may affect you and your family far in the future."
When contemplating divorce, many couples need help to move forward with their relationship or with their separate lives. Even though they always have choices, they may not see it that way or they may feel stuck. One of the feature articles in this issue of Divorce Magazine, "Are you in or are you out?" identifies the stages of marital dissolution and the emotions and mental processes that accompany each.
Divorce Magazine's summer/fall 2013 issue offers a range of educational and useful articles, tips and resources for divorcing individuals at all stages of the divorce process, including:

Why you need a divorce lawyer
10 detrimental conceptions about what really happens in court
An interview with Judge Lowrance
A look at property issues in divorce
The key to a financially successful divorce: Preparation!
5 ways to keep children out of conflict during your divorce
FAQs provided by experienced family lawyers, mediators, financial analysts and other divorce experts
The summer/fall 2013 issue of Divorce Magazine is available now. Additionally, Divorce Magazine's website contains thousands of divorce-related articles, divorce news items, information on local divorce professionals, and other divorce resources. Access is free and no registration is required.
About Divorce Magazine
Launched in 1996, Divorce Magazine is North America's only magazine devoted entirely to divorce. The printed magazine is published once a year with four regional editions. There is also a winter/spring digital issue. Past issues are available for free download on our website DivorceMagazine.com which has been a leading divorce-related source since 1996. We also operate a social networking website, http://www.MarriageAndSeparation.com; a blog,http://www.BlogsOnDivorce.com, which features expert opinion and insight from leading divorce professionals and http://www.FamilyLawyerMagazine.com, which is dedicated to helping family lawyers manage their practice and live a balanced life. For more information, contact publisher and CEO Dan Couvrette at (866) 803-6667 ext.124 or email DanC(at)divorcemag(dot)com.