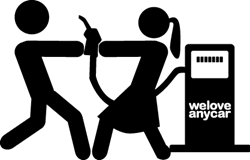 Divorcees mourn the loss of their car more than the loss of their love.
(PRWEB UK) 10 February 2014
The emerging financial recovery has led to 4.9% increase in the divorce rate as recovering house prices make it easier to divide the equity in a family home.
WeLoveAnyCar.com, the UK's biggest car review database, finds the decision on the family car - most couple's second biggest asset – is often more emotionally charged than the house, the photographs and even who gets to keep the dog.
"We are seeing increasing number of comments from divorcees who mourn the loss of their car more than the loss of their love," says a WeLoveAnyCar.com spokesman.
Often couples, who were happy to have joint ownership of a car, find that they are faced with selling when marriage breaks down, often at a loss.
As many cars are financed, the arrangements covering title and responsibility can often be difficult to reconcile with legal documents signed in happier times. Also, the car would have depreciated and often there will not be any equity in the car to share.
Increasing evidence found on the WeLoveAnyCar.com car review site often sees drivers trading down to smaller, cheaper cars. Where children are involved, the wife can have a stronger case to keep the family car so more men may have to find another car after divorce.
Couples have a number of decisions to make regarding who has responsibility both legally and morally. Often one party may have legal ownership even though the other may have assumed it was 'their' car and they may have paid for it. A number of car buying companies are used to give a quick financial solution but they will insist on the finance being settled before any payment is made.
Many couples will have a car each but this can confuse matters more. In a fair and equitable divorce, all assets are divided. This ignores who actually owns the car legally according to government records and who drove which car.
WeLoveAnyCar.com spokesman commented, "Divorce can be devastating or even a relief. Often the car someone drives is seen as 'theirs' and represents freedom, identity and often status. According to the law none of this matters and losing a car can be one of the most visible signs of a person's perceived failure in their marriage and a substantial knock to their pride."
WeLoveAnyCar.com has over 108,000 car reviews and covers virtually every make and model. Car reviewers rate their car on economy, comfort, driving experience and other factors. Many car reviewers give comments giving an insight not only of the car itself but their stage in life.