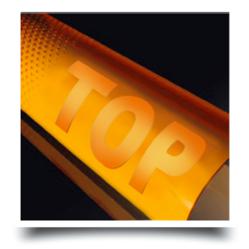 "We're excited about the upcoming TOP Webinar and the ability to share this new "Pinning Top Dot" technology with our clients," says Williams
(PRWEB) July 01, 2013
A new plate material will be introduced to the flexographic printing industry in August 2013. The Asahi AFP TOP plate with "Pinning Top Dot" technology will help flexographic printers with the common challenges associated with solid ink density, ink coverage, and longer plate life.
Pre-media provider and flexographic educator Dixie Graphics, has announced an industry-wide webinar they will host for flexographic printing professionals on July 23, 2013. The webinar titled "Does Pinning Top Nail It?" will address key issues flexographic printers face every day and feature the newest player in the dot game, Asahi's "Pinning Top Dot" (AWP, TOP.)
Dixie Graphics is the exclusive beta pre-media provider for TOP, as selected by the plate manufacturer, Asahi and their domestic distributor Correct Touch Graphic Arts. Dixie has been trialing the new TOP plate at printers of various packaging and substrates since January 2013. During the webinar, Dixie will share findings from these trials in areas such as solid ink density, dot structure and dot gain, ink release from plate to substrate, and overall print quality.
According to Matt Williams, Vice President of Business Development at Dixie Graphics, "We're excited about the upcoming webinar and the ability to share this new "Pinning Top Dot" technology with our clients. The results we've seen in our beta testing have exceeded everyone's expectations and will change the flexographic dot game."
The webinar will be led by Dixie Graphics with registration available beginning July 1, 2013 by visiting http://www.dixiegraphics.com/topwebinar.
Asahi introduced "Pinning Top Dot" technology first in a water-wash flexo plate called AWP and has now developed a solvent-wash solution, AFP TOP. TOP will be commercially available for wide web printers in a 50" x 80" sheet size in August 2013. Participants of the webinar will receive a 20% promotional discount on TOP flexo plates from Dixie Graphics and will receive priority when ordering the material in August.
Dixie Graphics is a leading flexographic pre-media supplier to printing facilities across the US. For more information on Dixie Graphics visit http://www.dixiegraphics.com or call at 615.832.7000.
About Dixie Graphics
Dixie Graphics, founded 1903, is an innovative leader in graphics, platemaking, and brand optimization; specializing in high-complexity color separations, screening technology, and color management. Dixie charges itself with the responsibility to bring the latest, best offerings to its network of customers in its commitment to Quality | Service | Delivery.