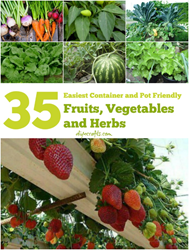 We've got you covered for back to school with great organizing tips that will help you to enjoy a less stressful year.
Los Angeles, CA (PRWEB) August 22, 2014
DIY and Crafts, a website that features links to hundreds of the best DIY blogposts on the internet, has just launched its new and user-friendly site.
As many crafty and DIY-minded people know quite well, there are literally thousands of blogs and websites on the internet that offer instructions on how to create some really amazing projects. However, wading through all of the posts and websites is not only time-consuming, it can leave many craft lovers feeling overwhelmed and confused.
This is where DIY and Crafts can help: by scouring sites like Pinterest, Google and others and then highlighting the many blogposts that feature worthy projects and organizing them in a logical way, the new website is a one-stop craft lovers stop. To help visitors to the site find the type of project they are looking for, DIY and Crafts features a small description of the blogpost and then a direct link. To make finding the ideal project as easy as possible, the new website is divided up into sections, including fashion, health, DIY home decorating projects, lifehacks, food and more.
Although the website is relatively new, one section that has gotten a lot of attention from visitors lately focuses on various DIY organizing projects. For example, a post titled "10 Stress-Saving Organization Tips for Back to School" has caught the eye of many parents who are trying to stay sane and organized as their kids head back to school.
"We took the time to gather a few organizing tips that will help you and your students get a better grip on those busy mornings," a company spokesperson for DIY and Crafts said, adding that from planning what to wear the night before to keeping papers organized so both parents and kids can find homework easier, people are sure to be able to put these organizing tips to good use.
"We've even got a way to make homework time a bit less stressful for you and your little ones. Sit back and relax. We've got you covered for back to school with great organizing tips that will help you to enjoy a less stressful year."
Anybody who would like to learn more about DIY and Crafts is welcome to visit the new website; there they can browse through the hundreds of projects and feel inspired to give some of them a try.
About DIY and Crafts:
DIY and Crafts is a market leader do it yourself and crafts website, providing well researched and doable DIY projects. The website is a free online magazine with loyal fans and readers. Saving money and having fun has never been easier, and the site's founders have found that craft projects bring the family closer. For more information, please visit http://www.diyncrafts.com/.