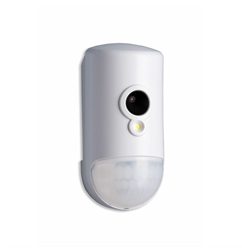 Concord, CA (PRWEB) April 19, 2016
GetSafe Home Security (https://GetSafe.com) today announced the addition of a new motion detector camera to its product suite. Using passive infrared technology, the new GetSafe camera is able to sense people moving through a home, even in the dark. Yet the sensor includes a built-in "pet-friendly" mode that allows it to distinguish between humans and pets, reducing the risk of false alarms.
"Pets have always been a big issue for home security systems," says Alan Wu, Marketing Manager for GetSafe Home Security. "We found that a lot of pet-owners were turning off their motion detectors much of the time because of concerns that their pets would trigger a false alarm."
If the motion detector senses an intruder, it automatically connects to the GetSafe Hub and begins recording video. If necessary, the camera's built-in LED light will activate to allow recording in the dark.
Besides automatically recording intruders, Wu says that customers can view live video from their home at anytime just by logging into the GetSafe smartphone app.
GetSafe Home Security offers a fresh take on home security that breaks many of the rules found in traditional security systems. GetSafe is the first truly mobile home security system, being operated entirely from a smartphone app.
Like all of GetSafe Home Security's equipment, the battery-operated camera mounts with peel-and-stick tape and connects wirelessly to the GetSafe Security Hub. Wu says this gives customers the freedom to mount the camera virtually anywhere within range of the hub.
"A security camera only helps if you can place it where you need it," says Wu. "If you have to connect the camera via wires, or plug it into an outlet, it really limits your freedom."
GetSafe also offers customers greater freedom and flexibility with simple month-to-month service. Customers are free from the long-term contracts required by most other security companies. Many leading security companies require a minimum three-year contract.
The camera will be sold as an add-on to the GetSafe Starter Kit and retails for $129. To learn more about GetSafe's motion detector camera, visit https://getsafe.com/motion-detector-cameras/.
About GetSafe Home Security
Founded by industry veterans with over 30 years of combined experience, GetSafe offers a fresh take on home security. The company offers no-contract, DIY alarm systems that fit today's lifestyles. Designed for a mobile-friendly world, the system is controlled through a smartphone. GetSafe is simple to install, and easy to customize, which means customers can take it with them when they move, and add to the system as their home grows.
Learn more by visiting GetSafe.com or by calling (888) 799-6255.