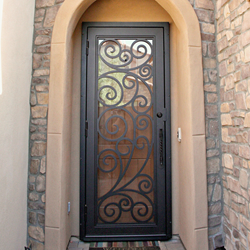 Swapping out your doors is an easy and affordable way to upgrade your home's exterior without having to do a comprehensive home renovation
Gilbert, Arizona (PRWEB) March 22, 2016
Just as the eyes are the windows to the soul, the door of a home offers a sneak peek of what lies inside. And one Gilbert, Arizona-based company is giving homeowners, designers and do-it-yourselfers a new option for enhancing their homes' exterior appeal easily, elegantly and efficiently.
It's the new DIY Door line from First Impressions Security Doors, and it debuted recently and is now available for purchase across the United States. Crafted from premium-quality, 100 percent American-made metal and easily customizable, First Impressions' DIY security screen doors offer the same decorative look and critical safety features as those that require professional installation, but at a considerably lower price point.
"It's a great option for those who don't mind getting their hands a little dirty to save a lot of money, or for those who have a contractor in mind to get the job done for them," said Brie Ann Gaylord, Marketing Manager of First Impressions Security Doors. "Simply measure your door space, select your design and choose your specific preferences, and you're good to go."
Gaylord added that First Impressions' DIY doors are delivered directly to homes within four to six weeks after the order is placed, and that shoppers can choose from 14 different designs, eight door sizes and five classic and contemporary color choices. In addition to five main powdercoat color options, those seeking extra elegance and style can spring for glass or metal mesh finishes for nominal additional fees.
Pre-assembled and pre-hung, First Impressions' DIY doors are available in single and double-door designs, and are intended for use as front doors, back doors, patio doors or French doors.
"Swapping out your doors is an easy and affordable way to upgrade your home's exterior without having to do a comprehensive home renovation," Gaylord said. "The doors are the heart of your home, and our new line lets you give it an elegant, necessary upgrade without sacrificing safety and security."
For more about First Impression Security Doors or to check out the new DIY line, visit FirstImpressionSecurityDoors.com.