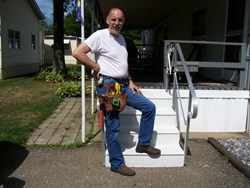 In the old days, some toilet drain systems integrated pipes made with lead.
Erie, PA (PRWEB) October 21, 2013
DIY Home Fix Tips is constantly on the lookout for ways to make home repairs more efficient and less expensive.
This month, DIY Home Fix Tips talks about an unusual situation that occurred in a house that was well over 50 years old.
Nowadays,toilet drains are assembled using PVC piping and accessories. This make repairs relatively easy compared to 40 years ago.
In the old days, some toilet drain systems integrated pipes made with lead. More recently, these leaded parts have been replaced with steel, then copper, and now PVC.
Sometimes a situation comes up were the leaded toilet drain brakes loose from the steel toilet flange it was originally connected to.
This broken seal is below the level of the toilet horn and the wax seal so, even if the wax seal between the toilet and the toilet flange is holding, the water running downward will leak out of that broken pipe to flange seal.
If these seals fail for a long enough period of time, the floor around the toilet will start to deteriorate. When this happens, the screws or bolts holding the toilet flange to the floor will not old, no matter how many you put in.
If the floor is rotted badly enough, the floor will actually have to be replaced. Sometimes, however, the floor may not have any holding power, but is still strong enough to support the toilet (and the weight of a person using it.)
Take at look at the magic this handyman performed to fix the toilet problem.
About DIY Home Fix Tips:
The DIY Home Fix Tips blog treats their readers to quality, no bull info, tips, advice, videos and helpful product ideas related to DIY home repair. Brian Whiteman, the blog's author, has spent over 35 years designing, building, remodeling, and repairing residential homes. Mr. Whiteman is still active in repairing homes in the Erie, Pa. area. For more information about DIY Home Fix Tips, please visit http://www.diyhomefixtips.info.