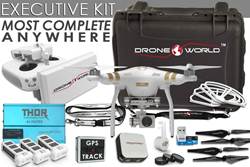 We've incorporated designs from three of the country's top long range fabricators to engineer a far superior long range system that outperforms them all.
BREA, Calif. (PRWEB) September 10, 2015
Drone World's Phantom 3 Professionals are primed to fly past the competition with the launch of their Phantom 3 Executive Bundle Kit.
The most advanced DJI Phantom 3 kit in the world, the Long-Range Phantom 3 Executive Kit Professional Bundle from Drone World was unveiled this week at http://www.drone-world.com. As the top destination for DJI Phantom 3 bundles online, Drone World's expertise and a host of exclusive upgrades and add-ons that are taking the DJI Phantom 3 farther than ever before with a range up to five miles, in appropriate conditions only.
"I'm very impressed with our builders. We've incorporated designs from three of the country's top long range fabricators to engineer a far superior long range system that outperforms them all, says Drone World Founder and President Stephen McKenna. "After testing the Phantom 3 for five months across the globe in 4 countries, we have selected the finest aftermarket parts that cost one fourth of a custom one-off build. Only the most durable parts for our customers because we know it is what is really needed out in the field. Our designs follow our need for function and the Executive Kit is fit for producing the finest quality video from world famous DJI Phantom 3."
To create the world's most advanced Phantom 3 Kit, Drone World has spared no effort in putting together a custom bundle with the most advanced technology and accessories available. Fashioned by aerospace engineers with the industry's first custom-tuned long range radio system and Drone World's custom programming, the DJI Phantom 3 Executive Edition's range has been extended from the standard 1.2 miles to a whopping 5 miles. A panoramic 180-degree diversity panel antenna and custom programming ensures the long range connection from drone to the remote controller won't get cut out.
In addition to the world's first 5-mile Phantom 3 system a multitude of Drone World phantom 3 accessories round out the Phantom 3 Executive Bundle making it the most complete kit on the market. Pilots can carry, store and travel knowing their Executive Kit is securely stored in a top of the line Nanuk case featuring for the first time ever a custom white foam top, water-cut precision foam and tailored shoulder strap. The Phantom 3 stock propellers have been supplemented with white carbon fiber propellers, and industry first, upgrading the drone's speeds to 40-plus MPH.
Three DJI Phantom 3 smart batteries come standard in each kit for up to 75 minutes of flight time. And to speed up charging times, DW has included another industry 1st, THOR™ Super Charging Station. All three batteries and the drone's remote can now be charged safely at once with four-times faster charging speeds over the stock charger. As added juice for electronic needs, a Drone World Portable 10,400Mah battery will recharge smartphones, tablets, iPads, video goggles and more on location keeping the Phantom 3 Executive Bundle in the air longer.
To capture epic video and photos with the Phantom 3 in any lighting condition, Drone World's Lens Filter 2-Pack comes standard featuring the first waterproof and variable adjustment ND and Circular Polarized Filters. While a 64gb Lexar Memory Card with USB 3.0 reader and speeds up to 95/Mbs ensures videos are stored safely during flights and quickly transferred to the user's computer for editing.
During flight, the Phantom 3 Executive Edition comes standard with a host of accessories and modifications. MayTech Quick Release Prop Guards provide added safety in congested areas and are engineered with defection dampening. A matching white sunshade in tablet or smartphone size is also included to better visibility when using the DJI GO app during flight. While the remote controller's device collar and silicon protectors ensure full control with no slips during flight. And just in case, The Phantom 3 tops off the bundle with an all new Trackimo GPS tracking device for accurate retrieval of the drone in finely detailed web based tracking in real time to share with friends.
Rounding out the Drone World's newest kit are custom DW drone sticker and remote lanyard, an extra braided aluminum device cable (Android and iPhone) as well as training videos for the newby and the experienced pilot.
Drone World's DJI Phantom 3 Executive Edition, the world's most advanced Phantom 3 kit, is available for purchase now online at: http://www.drone-world.com/phantom-3-professional-bundles
About Drone-World.com: Drone World is the the web's preferred destination for consumer and professional unmanned aerial drones, kits and accessories. Combining superior customer service and know-how with years of experience, Drone-world.com features the most trusted brands in the industry including GoPro, DJI, 3DR, Futuba and Zenmuse. They specialize in custom DJI & Phantom bundle kits including the recently released DJI Phantom 3.