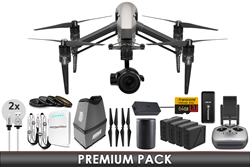 (PRWEB) September 16, 2017
In the compendium of drones sold by global drone leader DJI, the Inspire 2 is the cream of the crop. It should come as no surprise then that Drone World, the king of kits, would craft an awe-inspiring DJI Inspire 2 x5s Premium Pack to perfectly complement all the great strengths of the Inspire 2. Their latest upgrade kit pulls no punches, offering drone pilots multiple valuable options: an exclusive premium wheeled hard case, an extra remote controller, Crystal Sky monitor, DJI Goggles, focus wheel, battery bank, iPhone cable, premium lens filters, lanyard, 3 extra batteries, a DW sunshade, 64gb u3 rated memory card & reader, and a mini drone.
"Given that the DJI Inspire 2 is such an advanced drone, we knew that our Upgrade kit for the DJI Inspire 2 Premium Pack needed to be special, and we are very proud of the final product," said Stephen McKenna, President and Founder of Drone World. He continued, "Being a good golfer goes a long way, but have the best clubs greatly enhances your talents - the same is true for having all the best drone accessories professionally organized in the best hard case on the market."
The kits at Drone World continue to exceed expectations, and nowhere is this more evident than with the DJI Inspire 2 Wheeled Hard Case, a case designed by a military contractor and featured in RotorDrone magazine (America's Top Drone Magazine). This versatile case blows away the competition, with room for 16 additional batteries, 4 charging hubs, a cutout for the focus wheel and bracket. Plus, you can store 2 cameras and 3 additional camera lenses! Built for durability, the case is waterproof, and uses ultra tough synergy basefoam on top of a ultra durable white foam topper (new for 2017). Since the Inspire 2 relies on two batteries and typically flies for 20-25 minutes, extra battery storage for more flying is a feature every pilot can appreciate. Also of note is a new concept: the "On Deck" battery storage system that allows the pilot to cool down batteries before storing them, effectively prolonging battery lifespan.
One of the most useful elements of the upgrade kit is the DJI Inspire 2 focus wheel, which allows pilots to easily adjust the focus of the x5s camera manually. It makes it much easier to use and fine tune the focus, rather than use the hidden, on-screen alternative.The DJI Inspire 2 Goggles feature the best resolution of any FPV Goggles on the market: 3840x1080 and can run for 6 hours on a single charge. Another invaluable addition to the kit is the Inspire 2 DJI Crystal Sky LED Monitors, which are 4x as bright as typical mobile devices. It also utilizes optimized video decoding to decode video in real-time to provide high quality video with minimal latency.
Three premium Inspire 2 lens filters are included in the premium pack:
ND8/CPL: A neutral density filter designed for shooting on sunny days, the ND8 cuts down on the amount of light entering the lens while the circular polarized lens reduces reflections through water and glass.
ND16/CPL: Another neutral density filter, the ND16 allows 1/16 of the amount of light through while also reducing reflections via the CPL.
ND2-400: This lens is variable, allowing pilots to adjust the filter to their liking.
All of the camera filters are compatible with both the X5S and X4S Zenmuse Cameras, which customers can choose between in the Inspire 2 Premium Package.
About Drone World:
Drone-World.com is the Web's preferred destination for consumer and professional unmanned aerial drones, drone kits, and drone accessories. Drone-World.com combines superior customer service and know-how with over 5 years of drone experience and 10 years of web sales and service. They specialize in custom DJI Phantom & Mavic bundle kits, including the highly popular DJI Phantom 4 Pro/+ Executive & Falcon Edition kits featured in RotorDrone Magazine as well as commercial use Inspire 2 kits, Osmo kits and the newly released DJI Phantom 4 Pro kit and the DJI Phantom 4 Pro+ (Plus) bundle. Use coupon code ACC15 for 15% off Drone World brand accessories.
For more information contact:
(888) 901-3108
sales@drone-world.com