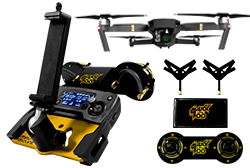 (PRWEB) March 17, 2017
The Mavic Pro from DJI has become a force to be reckoned with since bursting onto the drone scene in September 2016. In just six months it has cemented its place among drone enthusiasts as a top choice, and for good reason. Most recently, Drone World unleashed a brand new upgrade to this one-of-a-kind drone, the Mavic Pro MaXX Mod Kit. The biggest augmentations are the three antennas, which provide drone users with three unique attributes; boost in Max Range, HD Signal strength, and allow for omnidirectional reception for FPV Park use.
"We are excited to launch the Mavic MaXX Mod Kit, and can't wait for our customer base to get their hands on the latest and greatest upgrades to this outstanding drone," commented Chris Brunasso, Vice President of Drone World. He continued, saying, "The antenna mod provides a virtually guaranteed signal that greatly enhances the onscreen image. Customers already love the aluminum constructed Mav Mount that allow drone pilots to use a tablet. Plus, the new Mavic L-Series Lens Filters include an Ultra HD glass from Japan and incorporate a new dual stacked CPL filter on top of an ND8 filter that marry two of the most popular Mavic filters on the market."
Priced just $300 more than their other DJI Mavic Pro upgrade kits, the MaXX Mod Kit represents the next level in Mavic Pro excellence. In addition to the helical antenna known as the HD Signal Mod, there are also two other new-for-2017-models called the FPV Park Mod and the Max Range Mod. Another highlight is the award winning LowePro backpack with an innovative Rapid Deploy compartment that has been engineered specifically for this MaXX Mod kit. The drone setup time has been said to be reduced from minutes to seconds. Also included are a set of handy propeller guards that protect the propellers while installing with a mere snap. These prop guards are perfect for new drone users, protecting people from the spinning propellers as well as safeguarding the propellers from unseen obstacles during flight.
From the Mavic prop guards and the lens filters, to the custom designed mount and upgraded Mavic long range antennas, the Mavic MaXX Mod Kit from Drone World is sure to be a popular choice for new drone fliers and experts alike. Plus, current Mavic Pro users will soon be able to send in their Mavic Pro and receive DJI Mavic Pro MaXX Mod Range Extender antenna upgrades with optional tablet device mount.
About Drone World:
Drone-World.com is the Web's preferred destination for consumer and professional unmanned aerial drones, drone kits, and drone accessories. Drone-World.com combines superior customer service and know-how with over 5 years of drone experience and 10 years of web sales and service. They specialize in custom DJI Phantom & Mavic bundle kits, including the highly popular DJI Phantom 4 Pro/+ Executive & Falcon Edition kits featured in RotorDrone Magazine as well as commercial use Inspire 2 kits, Osmo kits and the newly released DJI Phantom 4 Pro kit and the DJI Phantom 4 Pro+ (Plus) bundle. Use coupon code ACC15 for 15% off Drone World brand accessories.
For more information contact:
(888) 901-3108
sales(at)drone-world(dot)com