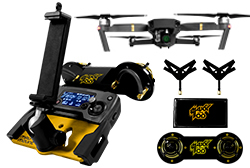 (PRWEB) July 27, 2017
One of the most popular drones of the past year is the DJI Mavic Pro, highly coveted for its compact size, substantial range, and uncanny ability to shoot high quality video and capture great photos. In March 2017 Drone World unveiled their latest upgrade kit, the DJI Mavic Pro MaXX Mod Kit, featuring some truly eye-catching upgrades over the standard DJI kit. To best understand all of the valuable changes Drone World has made to the Mavic Pro in their MaXX Mod Kit, watch this informative video here.
Since its release, the DJI Mavic Pro MaXX Mod Kit has quickly become the most popular Drone World package, resulting in recognition in Rotor Drone Magazine and endorsement from National Geographic Photographer Max Seigal. Plus they have added a stylish carbon fiber design to the drone & remote. (Watch the process how they add the custom DW wrap to the Mavic Pro in this fascinating video here)
As non-commercial drones continue to grow exponentially in popularity, companies that specialize in improving those drones and their corresponding accessories are also becoming more popular. The boost in range and HD quality on the tablet is a welcome improvement, as evidenced in this video here. Also included in the MaXX Mod Kit is the Mavic Hard Case for added protection of the drone and the THOR triple charger to ensure rapid charging of the aircraft and the various accessories.
President and Founder of Drone World Stephen McKenna spoke about the revamped MaXX Mod Kit, saying "We've been doing this for years, testing all of the industry's best accessories and vetting them for quality, durability, portability, & aesthetics. We utilize our very own in-house antenna technologies to provide a virtually guaranteed signal to each of these great DJI drones. This Mavic drone kit been fully hot-rodded out to suit our American need for modded-speed. It's been fully blueprinted and balanced using forged internals. Plus, the dual helical antennas are matched to +/- 0.25 dBm, creating an extra full mile of range. The Maxx Mod Kit is one we are immensely proud of its multiple industry-first concepts, and we are positive drone fans everywhere will flock to it. While the possibility of 5 miles of range is excellent, it's not the range of the drone that is the goal, but the reliability that is so golden."
The three aforementioned additions to the MaXX Mod Kit join an unrivaled grouping of great elements, including 3 antennas, each serving a different purpose. The "HD Signal" antenna maximizes the HD image on screen by offering better penetration, while the MaXX "Range" antenna boosts the range to a substantial 4-5 miles. Finally we have the "FPV Park" antenna, the quintessential sidekick to reliable FPV flying, granting pilots strong signals within a mile in all directions. Experienced FPV pilots will relish in not having to point their controller directly at the drone while flying FPV.
About Drone World:
Drone-World.com is the Web's preferred destination for custom consumer and professional unmanned aerial drones, drone kits, and drone accessories. Drone-World.com combines superior customer service and know-how with over 5 years of drone experience and 15 years of web sales and service. They specialize in custom DJI Phantom & Mavic bundle kits, including the highly popular DJI Phantom 4 Pro/+ Executive & Falcon Edition kits featured in RotorDrone Magazine as well as commercial use Inspire 2 kits, Osmo kits and the newly released DJI Phantom 4 Pro kit and the DJI Phantom 4 Pro+ (Plus) bundle. Use coupon code ACC15 for 15% off Drone World brand accessories.
For more information contact:
(888) 901-3108
sales(at)drone-world(dot)com