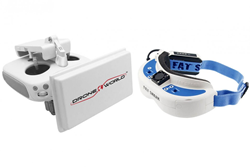 This system is twice as safe to pilot and twice the fun...
BREA, Calif. (PRWEB) November 20, 2015
Flying the DJI Phantom 3 Professional safer and better connected has never been easier than with Drone World's top selling Executive Kit bundle with Range Extender Antenna Upgrade & optional FPV Goggles, and now the industry leading drone retailer is making their Phantom 3 Long Range Extender Antenna Upgrade available to all Phantom pilots along with FPV goggles and previously unreleased accessories just in time for the holiday season.
Previously only available in Drone World's Industry 1st Long Range Phantom 3 Executive Kits, the Drone World Range Extender Antenna upgrade was developed to provide pilots with greater connection and safety when flying their Phantom 3 in all areas. Due to an overwhelming demand for the range extender technology, Drone World has now released the extended range antenna on http://www.drone-world.com allowing Phantom 3 owners the chance to have their remote controller expertly upgraded by the Drone World techs.
"We are very excited with results from our aerospace engineers' custom-built antenna and custom programming," said Drone World Owner and President Stephen McKenna. "They significantly improved upon the factory DJI system and not only improved the P3's range but also significantly decreased the number of 'low signal' warnings. This system is twice as safe to pilot and twice the fun to fly because the video latency have been removed."
In addition to the groundbreaking technology and engineering now available individually in the extended range antenna upgrade, additional accessories released at Drone-World.com include the industry's best FPV goggles by FatShark, the THOR™ Supercharger charging station, commercial-grade sunshade hoods and more for Phantom 3 and Inspire 1 owners. Known for their clarity and cockpit-like view, FatShark's first-person view goggles have consistently been regarded as the best in drone FPV. Carrying the newly released FatShark DominatorV3 HD, Drone World is offering the goggles alone or as a part of Phantom 3 FPV kits with expertly installed HDMI modules and range extender antenna installation. For pilots looking to stay in the air longer by charging Phantom 3 smart batteries quickly and safely, the Drone World industry 1st THOR™ Supercharger charging system charges 3 batteries and a remote controller simultaneously 4x faster and safer than any charging hub available. While DW's new line of sunshades utilizes high-quality hood construction to reduce glare on Android and Apple iPhones and tablets during flight similar to professional outdoors camera operators and photographers.
All of Drone World's line of exclusive Phantom 3 accessories including the Range Extender Antenna, Phantom 3 FPV kits, THOR™ Supercharger and more are available now at http://www.drone-world.com/dji-phantom-3-accessories with exclusive Black Friday and Cyber Monday deals to come next week.
About Drone-World.com: Drone World is the the web's preferred destination for consumer and professional unmanned aerial drones, kits and accessories. Combining superior customer service and know-how with years of experience, Drone-world.com features the most trusted brands in the industry including GoPro, DJI, 3DR, Futuba and Zenmuse. They specialize in custom DJI & Phantom bundle kits including the recently released DJI Phantom OSMO, Inspire 1 v2 and Inspire 1 Pro.