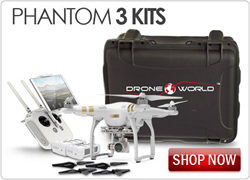 Brea, CA (PRWEB) June 30, 2015
After launching the world's first DJI Phantom 3 Kit, Drone World has expanded its line with the addition of new cases and backpacks to go along with their extra battery kits.
Building on the success of their industry-first Phantom 3 Kits, Drone World(http://www.drone-world.com) has added multiple kit options to get pilots of the Phantom 3 up in the air with the ability to travel and store their investment safely. Having introduced a kit featuring the Phantom 3 Professional or Advanced and additional battery with a convenient and crush-proof custom black case, the retailer is adding military style backpack kits and Phantom 3 compact backpack kits.
"Having a Drone World Phantom 3 Kit gives the pro and newbie pilot alike everything they need to not only get started but also protect and build on to their drone," says Drone World Founder Stephen McKenna. "We're really the only ones at this time offering a multitude of levels and options for kits at this quality and price."
In addition to expanding their Phantom Kits line, Drone-World.com is also stocking the full line of Phantom 3 accessories. Customers can now purchase one-off items for the Phantom 3 that include items like the 100W rapid charger, Phantom 3 lens filter packs and upgraded memory cards. Also available are Phantom 3 standalone cases, military style backpacks and compact backpacks for purchase at drone-world.com/dji-phantom-3-accessories
Customers visiting Drone World's homepage can see all these new items and much more by viewing the company's new promotional video. Included are glimpses of the Phantom 3 in flight, what's on offer now and what's on the horizon for the drone retailer.
About Drone-World.com: Drone World is the the web's preferred destination for consumer and professional unmanned aerial drones, kits and accessories. Combining superior customer service and know-how with years of experience, Drone-world.com features the most trusted brands in the industry including GoPro, DJI, 3DR, Futuba and Zenmuse. They specialize in custom Phantom kits including the recently released DJI Phantom 3.