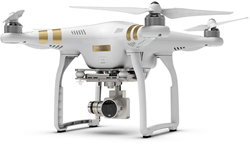 BREA, Calif. (PRWEB) February 16, 2016
The country's top drone kit retailer Drone World has lowered the price of the most popular Phantom 3 drone, the Professional model, by 20%, from $1,259 to $999. Additionally, the industries best Phantom 3 Professional bundles and kits (see here) are $260 off. The sale goes into effect today.
CEO Stephen McKenna said of the sale: "By dropping the price 20%, we're making an already terrific product offering that much more accessible. The Phantom 3 Professional is the best combination of value, performance, and simplicity in the consumer drone market. Everyone, beginner and pro alike, will find something to love about the Phantom."
The Phantom 3 Professional is the premium version of the DJI's top-selling Phantom series. Each Drone World Phantom 3 Professional Kit includes the quadcopter itself, a premounted 2160p (4K) and 16 MP camera with three-axis gimbal, a 15.2v 4,480 mAh Intelligent Flight battery, and a wireless remote, as well as numerous professional quality accessories as seen in their Phantom 3 Executive Kit.
The Professional also includes several advanced features, such as a Visual Positioning System (VPS) for indoor operation; US Global Positioning System (GPS) and Russian Global Navigation Satellite System (GLONASS); and Lightbridge, a data transmission system for delivering high-definition video to the pilot from over a mile away. The Phantom 3 Professional has a 35 MPH top speed, 1.2+ mile range, and an estimated 23 min. flight time. The Professional supports USB and micro-USB devices, including tablets and smartphones, in conjunction with the DJI app.
The Phantom 3 Professional has consistently topped consumer drone comparison tests. In his glowing review of the Phantom 3 Professional, The Verge's Ben Popper stated: "I would recommend the new Phantom, like its predecessors, as the best combination of price, power, and ease of use for people who are seriously interested in a really good drone. It's the right drone for a total beginner, and advanced enough for a professional." Full review on The Verge: here.
Drone World also offers the Phantom 3 Advanced, which utilizes all the same great features--GLONASS navigation, Light Bridge streaming, and VPS--found on the Professional, but with 1520p (2.7K) video resolution. The Phantom 3 Advanced currently retails for $799.
About Drone World: Drone-World.com is the web's preferred destination for consumer and professional unmanned aerial drones, kits and accessories. Combining superior customer service and know-how with 5 years of experience. They specialize in custom DJI & Phantom 3 bundle kits including the recently released DJI Phantom OSMO, Inspire 1 V2.0 and Inspire 1 Pro.
For more information contact:
(888) 901-3108
sales@drone-world.com