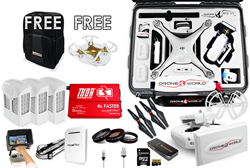 Yorba Linda, CA (PRWEB) July 01, 2016
Drone World has released several new individual accessories for the DJI Phantom 4, including brand exclusives and industry-firsts -- and hints at more surprises yet to come.
Among the industry-firsts are:
The Drone World exclusive THOR Supercharging Station for the Phantom 4, which powers up to three batteries simultaneously four times faster than a standard charger. This updated model boasts a new cooling fan that is rated for up to 20K hours of usage and a commercial-grade power cable for added safety. The THOR brand of chargers is the only aftermarket DJI charger independently tested for quality.
Second are Drone World's Phantom 4 carbon fiber propellers with pre-mounted, custom-built, ultra-light hub adapters. The new propellers come after considerable R&D and feedback on the Phantom 4's standard propellers and hubs, which lacked long-term reliability due to spring softening. These new propellers provide quicker acceleration with the sharp look of carbon fiber styling.
Stephen McKenna, CEO of Drone World, was especially proud of the new hardware: "A key advantage with these props and custom hubs are their proven, self-tightening, spin-on design, as found on the Phantom 3. They're tougher and more reliable than the Phantom 4's standard spring-loaded hubs, which we've discovered need to be replaced every few months when flown often."
Third are Drone World's "Quick-Clip" impact-dampening, quick-release Phantom 4 propeller guards, which can be used while in Obstacle-Avoidance Mode—yet another breakthrough. "Everyone likes to poke fun and say that prop guards are the drone equivalent of training wheels," says Chris Brunasso, vice-president of Drone World. "Yet they truly do a great job of shielding propellers from potentially disastrous crashes and provide safety when filming around people."
Rounding out the new accessories are two Phantom 4 lens filter kits. The base Sport Series kit includes UV filter, circular polarizer (CPL), and two-stop ND filters; the premium red-ring L-Series Phantom 4 lens filter kit includes variable ND2-400, CPL, and UV filters. These filters allow users to adjust neutral density settings even while the drone is suspended in-flight -- all with a simple twist of the lens.
Additionally, Drone World is offering an entry-grade non-powered three-battery charger alternative to the THOR system, as well as a full-bodied carbon-fiber-style wrap that transforms a customer's Phantom 4 drone into a mobile work of art.
McKenna was proud to announce the new accessories: "We've logged over a thousand hours flying the Phantom 4 and testing these accessories, which we designed to be the best upgrades for any Phantom 4. Our exclusive designs are a time-tested, cost-effective upgrade for pilots looking to go beyond stock."
McKenna hinted on a new set of an even lighter composite propellers set for later in July. Customers can e-mail sales(at)drone-world(dot)com to learn more and reserve one of the first hundred sets. He also mentioned a top-secret advancement on the company's Long Range System, also expected to be unveiled later this month.
In the meantime, customers can see the full list of Drone World's Phantom selections at drone-world.com
About Drone World: Drone-World.com is the Web's preferred destination for consumer and professional unmanned aerial drones, drone kits, and drone accessories. Drone-World.com combines superior customer service and know-how with over 5 years of drone experience and 10 years of web sales and service. They specialize in custom DJI Phantom bundle kits, including the highly popular DJI Phantom 3 kit, the OSMO kit, the Inspire 1 kit, and the newly released DJI Phantom 4 kit and DJI Phantom 4 bundle.
For more information contact:
(888) 901-3108
sales(at)drone-world(dot)com