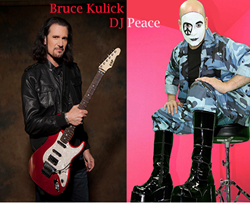 Kiss fans believe Bruce Kulick belongs in the Rock and Roll Hall of Fame along with founding members.
Canyon Lake, CA (PRWEB) March 12, 2014
Mark Peace Thomas is known for his DJ-MC services for weddings throughout Southern California but 2013 would see "DJ Peace" crossover from playing recordings to recording artist. His First CD "ManSmarts: The Music" was released on October 15, 2013. DJ Peace planned on including a cover of the KISS song "Do You Love Me?" for the release but had twelve original songs written.
A month earlier, Mark ran into one of his hard rock heroes and former guitarist for KISS: Bruce Kulick at Sportsmen's Lodge in Studio City, CA. This lead to Mark approaching Bruce about playing on a "DJ Peace" cover of "Do You Love Me?". Bruce agreed and liked the contemporary EDM-infused version of the song. "Bruce adds that classic KISS sound to the track which is very contemporary sounding," stated producer Jeff McCullough. He added "DJ Peace has arranged the song with a Zep-style guitar riff and added a solo that was never there which really makes the song rock!" DJ Peace is treating his new recording as a tribute to KISS with a release date of April 10, 2014, which is the day the founding members of KISS (Paul Stanley, Ace Frehley, Gene Simmons and Peter Criss) will be inducted into the Rock and Roll Hall of Fame. Bruce recorded and toured with Kiss for over twelve years. Gene Simmons has already stated that the band will be accepting the honor on behalf of all former members. Fans can continue to rock and roll all nite with two new DJ Peace tunes to celebrate Bruce's legacy with KISS. Coming exclusively to CD Baby.
DJ Peace official website is http://www.dj-peace.com.