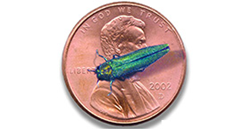 Homeowners need to decide whether or not they want to make their ash trees resistant to the EAB.
Denver, CO (PRWEB) March 12, 2014
DLC Arbor Services, LLC gears up to help Denver Homeowners prepare for Emerald Ash Borer (EAB) Invasion. The EAB has been in Boulder for about two to three years and surrounding cities are now looking for prevention options. According to Jason Kleinsmith, certified arborist with DLC Arbor Services, LLC, "The emerald ash borer destroys ash trees. It has killed tens of millions of ash trees across the U.S. since 2002. The insect is now found in twenty-one states plus two provinces in Canada. Its larvae devour the nutrient conducting tissues beneath the bark ash tree. The tree overtime starves to death. In 2013, the EAB arrived in Boulder County. It got here most likely in firewood shipments from out of state. It is now unlawful to transport ash tree products (firewood, logs, lumber products) outside Boulder County. But lets be realistic, millions of dollars have been spent by these states invaded by the EAB on eradication but the bug still reached Colorado."
Kleinsmith adds, "Many Denver homeowners with ash trees are wondering what they should do.
They first need to decide whether they want to make their ash trees resistant to the EAB. DLC Arbor has studied the research from dozens of state universities and extension services have been working on how to make ash trees more resistant to the EAB. DLC offers three different injectable and ground release insecticide treatments. The best treatment depends on tree location, desired treatment schedule, and budget. We have dedicated staff focusing on EAB treatments available this spring and summer."
Please call (303) 378-8000 or email DLC Arbor at info(at)dlcarbor(dot)com and set up an appointment to discuss which EAB treatment is best your ash trees.