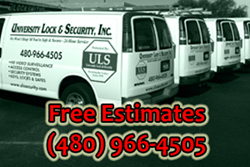 Your ONE STOP SHOP For Security Solutions!!
Tempe, AZ (PRWEB) October 16, 2014
Already the leading purveyor of state-of-the-art security systems, Phoenix, Arizona's University Lock & Security is now providing a complete video and training library for home security digital monitoring products systems.
Digital monitoring product (DMP) systems are growing in popularity for residential and commercial properties—and for good reason. DMPs are wireless, meaning that when a professional installs a homeowner's security system, they don't need to no crawl around in the attic or rummage through the basement in order to get the system up and running. More importantly, however, is the fact that DMPs also allow the system user to check monitors from any internet connection, along with a host of other convenient benefits.
However, while easy to use for many consumers, some DMP owners may need a little technical help once in a while, and manuals often get lost. That is why University Lock & Security now stores all manuals and instruction videos for its DMPs on its website for the benefit of customers whether they have misplaced their manuals or simply want to watch a training video.
University Lock & Security offers the following DMP manuals: the XR150/350/550 User Guide, the DMP XT30 Manual, the DMP XTL Manual, the XR100/500 or XR150/350/500 Quick Start Guide, the Icon Keypad Quick Guide, and the DMP XR500 Manual.
Additionally, the University Lock & Security site also offers the following training videos:
1. Shortcut Keys Make Life EASY
2. Use Your Cell Phone to Talk to Your Security System!
3. Codeless Arming Makes Life REAL EASY!
4. Home, Sleep, Away - The Most Secure System
5. DMP Keypad Training Videos - Arm/Disarm
University Lock & Security also provides professional customer service and technical support for all customers, no matter what kind of system they use.
About University Lock & Security
University Lock & Security is a full service security and locksmith business. It started as a family business over 30 years ago and has grown into a respected local supplier for all things related to home security, locks, safes, vaults, access control and commercial building security and monitoring. The Tempe AZ main office offers many walk-in services such as key-making and the fleet of University Lock & Security vans travels across the entire Phoenix area including Tempe, Scottsdale, Mesa, Chandler, Gilbert, Glendale and Peoria. Free estimates available on all services.
Contact:
Curtis Fletcher
http://ulssecurity.com/
University Lock & Security
1031 W. University Drive
Tempe, AZ 85281
(480) 966-4505