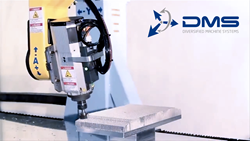 DMS CNC Routers offers moving table, overhead gantry, and standard gantry models of their 3 Axis and 5 Axis CNC Routers and Large Format Machining Centers to respond to composite material management.
Colorado Springs, CO (PRWEB) November 04, 2014
Diversified Machine Systems, Colorado Springs-based Original Equipment Manufacturer (OEM) of DMS CNC Routers and Large Format Machining Centers, discusses trends covered at the Composites and Advanced Materials Expo (CAMX).
A combined effort of the American Composites Manufacturers Association (AMCA) and the Society for the Advancement of Material & Process Engineering (SAMPE), CAMX hosted over 7,000 industry experts in October in an inaugural event established to bring together top leaders to discuss composites applications and usage benefits within various sectors.
In conferences and on the exhibit floor, discussions swirled about how these materials are not only taking market share from other solutions, but also truly becoming a preferred material due to their weight and strength advantages, in addition to their cost competitiveness.
While market adoption and advantages abound, composites can present health and safety concerns when combined with existing manufacturing processes. Potentially hazardous fumes and micro debris can be released during machining, a possible hazard risk that's not been fully regulated yet nationally. Over the past several years, Diversified Machine Systems has taken an active stance on these health and safety standards that have been enacted in some European Unions, which has progressed further in their material handling regulations.
As an industrial machine designer and manufacturer, DMS has developed an extensive line of affordable CNC machine formats that adhere to the strictest advanced material machining, making them available world-wide to composites manufacturers desiring to adopt them when implementing the new health and safety standards.
"Having one of our DMS Enclosed Overhead Gantry machines configured for composite materials processing on the exhibit floor, created a great deal of interest, as well as questions pertaining to presentations from the individual conferences," says DMS EVP & Chief Sales Officer, Ed Hilligrass. "It was refreshing to engage in dialog related to DMS designs and features that demonstrate our leadership and experience in composites."
DMS offers moving table, overhead gantry, and standard gantry models of their 3 Axis and 5 Axis CNC Routers and Large Format Machining Centers to respond to this material management. The most popular of these is the fully enclosed overhead gantry option, that not only protects against flying debris, but isolates critical components from contamination at the workspace level while integrating the client's dust extraction and filtration units to contain and evacuate airborne debris and fumes from the work envelope. Many standard designs include a retractable roof enclosure in order to accommodate loading/unloading of large parts and tools.
Learn more about Diversified Machine Systems at http://www.DMSCNCRouters.com.
ABOUT DIVERSIFIED MACHINE SYSTEMS
Diversified Machine Systems (DMS) is a leading designer and manufacturer of 3 Axis CNC Routers, 5 Axis CNC Machine Centers, and Large Format Machine Centers headquartered in Colorado Springs, CO. With more than 30 years of innovation and industry experience as an Original Equipment Manufacturer (OEM), DMS' line of CNC routers and machining centers are routinely used on materials such as wood, composites, aluminum, steel, plastics, and foams. Renowned for quality and precision, DMS advanced machining centers are engineered to increase efficiency and productivity, while maintaining the quality and precision leading manufacturers have come to expect.
Diversified Machine Systems was named a 2014 Colorado Company to Watch and was also recognized with the 2013 Regional Business Alliance Excellence in Manufacturing Award.
Be sure to connect with us socially for the most current news:
Twitter.com/DMSCNCRouters
YouTube.com/DMSCNCRouters
Instagram.com/DMSCNCRouters
Facebook.com/DMSCNCRoutersandMachineCenters
Plus.Google.com/+DMSCNCRoutersandMachineCenters