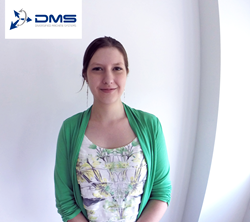 It's important to be connected to the community of graduating students to give back and to show the opportunity that manufacturing provides.
Colorado Springs, CO (PRWEB) July 10, 2014
Diversified Machine Systems, an American-made Original Equipment Manufacturer (OEM) of 3 & 5 axis CNC routers and large format CNC machining centers welcomes Deborah Enoch to the Sales & Marketing Team for the spring semester, as part of the DMS Internship Program.
Launched in 2013, the DMS Internship Program has graduated four other students from the program, and now has a standing agreement with Pikes Peak Community College to offer this semester-long program as part of their course offerings.
Deborah Enoch is originally from Bakersfield, CA and moved to Colorado in 2007. Her goal is to complete the Pikes Peak Community College Associates Degree in Multimedia & Graphic Design this year, and she sees this internship as valuable working experience. She's been doing graphic design for the last two years and looks forward to doing marketing design when she graduates.
Her hobbies include two kinds of martial arts – Aikido and Okinawan Kenpo Karate, as well as dance. She enjoys both West Coast Swing and Salsa, which she teaches occasionally.
Deborah has already contributed to the DMS Team by designing email signature graphics, print advertisements, editing photos and video in Adobe Premiere, and working with social media graphics.
"She's already shown to have a great work ethic and is very coachable. She's been fabulous to work with and we're only partway through the internship," says DMS Director of Marketing, Courtney Thurman. "It's great to have students who are close to graduating come through our program to get final refinement practice time while adding to their portfolio. It's important to be connected to the community of graduating students to give back and to show the opportunity that manufacturing provides."
In June, DMS expanded the Internship Program to Engineering, Pre-Engineering and Manufacturing students to work directly with the in-house engineering team. The Program is semester-long, and it offers hands-on learning experience overseen through an accredited college or university for course credit.
Learn more about the DMS Internship Program at DMSCNCRouters.com/Internship-Program.
Diversified Machine Systems was recently named a 2014 Colorado Company to Watch and was also recognized with the 2013 Regional Business Alliance Excellence in Manufacturing Award.
ABOUT DIVERSIFIED MACHINE SYSTEMS
Diversified Machine Systems (DMS) is a leading designer and manufacturer of 3 Axis CNC Routers & 5 Axis CNC Machine Centers and Large Format Machine Centers with headquarters in Colorado Springs, CO. With more than 30 years of innovation and industry experience as an Original Equipment Manufacturer, DMS' line of CNC routers and machining centers are routinely used on materials such as wood, composites, aluminum, steel, plastics, and foams. Renowned for quality and precision, our advanced machining centers are engineered to increase efficiency and productivity, while maintaining the quality and precision our clients have come to expect from DMS.