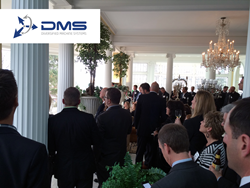 The 2014 Colorado Companies to Watch Finalist status acknowledges DMS' role in supporting economic and entrepreneurial growth in Colorado.
Colorado Springs, CO (PRWEB) April 21, 2014
Diversified Machine Systems, a leading 3 & 5 axis CNC machine center designer and manufacturer based in Colorado Springs, CO, is proud to announce their 2014 Colorado Companies to Watch Finalist status that acknowledges DMS' role in supporting economic and entrepreneurial growth in Colorado.
The Colorado Companies to Watch Award, presented this year by UMB Bank is a year-long program run by leaders in private industry, government and non-profit organizations who are all committed to fueling the economic fire. They do this by recognizing and supporting second-stage companies who are developing valuable products / services, creating quality jobs, enriching their communities and influencing industries, as these are the companies that are responsible for much of the economic growth of the state.
Diversified Machine Systems was nominated by Tyler Pilger of HUB International for this award due to DMS' exponential growth and market awareness. By being selected as a Finalist, DMS has earned the opportunity to submit their application for Round Two of the process. Finalists were also treated to an invite-only Finalist Reception at the Governor's Mansion in Denver, CO.
The final awards ceremony to honor the 2014 recipients will be held in late June in downtown Denver. Learn more about this award and the previous companies who have won it at Colorado.CompaniesToWatch.org.
DMS was also honored with the 2013 Regional Business Excellence in Manufacturing Award in November 2013. Learn more about DMS at DMSCNCRouters.com.
About Diversified Machine Systems
Diversified Machine Systems (DMS) is a leading designer and manufacturer of 3 & 5 Axis CNC routers & custom machining centers, with headquarters in Colorado Springs, CO. With more than 30 years of innovation and industry experience as an Original Equipment Manufacturer, DMS' line of CNC routers and machining centers are routinely used on materials such as wood, composites, aluminum, steel, plastics, and foams. Renowned for quality and precision, our advanced machining centers are engineered to increase efficiency and productivity, while maintaining the quality and precision our clients have come to expect from DMS.
Be sure to connect with DMS socially for CNC news and tips:
Twitter.com/DMSCNCRouters
YouTube.com/DMSCNCRouters
Instagram.com/DMSCNCRouters
Facebook.com/DMSCNCRoutersandMachineCenters
Plus.Google.com/+DMSCNCRoutersandMachineCenters