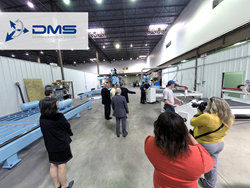 They're figuring out how to invent the future right here in Colorado.
Colorado Springs, CO (PRWEB) April 29, 2014
Diversified Machine Systems, a leading 3 & 5 axis CNC machine center designer and manufacturer based in Colorado Springs, CO, was featured on Senator Michael Bennet's Colorado Innovation Tour on April 21st, as part of a statewide focus on manufacturing.
Diversified Machine Systems CEO, Patrick Bollar and Executive Vice President & CSO, Ed Hilligrass hosted the DMS World HQ visit, joined by Channel 11 News, KKTV and The Colorado Business Journal's Wayne Heilman and photographer Carol Lawrence.
Senator Bennet's Colorado Innovation Tour highlighted Colorado's inventive and entrepreneurial spirit, which can be seen in DMS' commitment to innovation and continuing product advancement.
DMS was honored with the 2013 Regional Business Excellence in Manufacturing Award in November 2013, and recently awarded as a 2014 Colorado Companies to Watch Finalist.
"The common theme is innovation, people figuring out how to build something next week that nobody thought of last week. They're figuring out how to invent the future right here in Colorado", explains Senator Bennet to KKTV. "How we think about taxes and regulatory policies […] that actually promote innovation instead of stifle it and that's the purpose of this tour."
Watch the full video clip and read the article on DMS at The Gazette here: http://bit.ly/1f0KHlC.
View the full photo gallery at: http://www.dmscncrouters.com/senator-bennet-diversified-machine-systems-colorado-innovation-tour.
About Diversified Machine Systems
Diversified Machine Systems (DMS) is a leading designer and manufacturer of 3 & 5 Axis CNC routers & custom machining centers, with headquarters in Colorado Springs, CO. With more than 30 years of innovation and industry experience as an Original Equipment Manufacturer, DMS' line of CNC routers and machining centers are routinely used on materials such as wood, composites, aluminum, steel, plastics, and foams. Renowned for quality and precision, our advanced machining centers are engineered to increase efficiency and productivity, while maintaining the quality and precision our clients have come to expect from DMS.
Be sure to stay up on news with us socially:
Twitter.com/DMSCNCRouters
YouTube.com/DMSCNCRouters
Instagram.com/DMSCNCRouters
Facebook.com/DMSCNCRoutersandMachineCenters
Plus.Google.com/+DMSCNCRoutersandMachineCenters