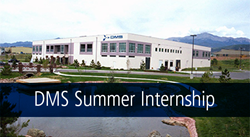 It's always to our benefit to commit time to educate the manufacturing leaders of tomorrow - marketing people included.
Colorado Springs, CO (PRWEB) May 21, 2014
Diversified Machine Systems (DMS) has opened up the application process for the DMS Summer Internship Program as part of the ongoing DMS Internship Program offered during the traditional collegiate year.
Launched during the summer of 2013, DMS has been committed to offering workplace experience to qualified students interested in learning about the manufacturing industry in a marketing capacity. While DMS is planning on opening up the program to other departments in the future, the current Internship Program is offered only to marketing and design students who will work alongside the Sales & Marketing Department at the DMS World Headquarters at 1068 Elkton Drive in Colorado Springs, CO.
This summer-long experience is available to students eligible to receive course credit through a college or university, who want to learn about video editing, social media marketing, blogging, photography, graphic design, web design, trade show and event marketing, inbound marketing and more. The intern will assist with marketing functions for Diversified Machine Systems and our subsidiary brand, Freedom Machine Tool, as we continue to grow nationally and internationally to award-winning acclaim.
Each summer or internship term is unique, since students work side-by-side with the DMS In-House Team on upcoming events, media outreach and opportunities and occasional statewide exposure, such as when Senator Michael Bennet recently visited DMS as part of his Colorado Innovation Tour. Each student has the opportunity to showcase their work and expand their portfolios, as well as being the focus of a PRWeb press release published about them and their career goals.
"It's important, especially in a competitive employment environment, that students get to learn what it takes to get results on a marketing team," says DMS Director of Marketing, Courtney Thurman. "It's always to our benefit to commit time to educate the manufacturing leaders of tomorrow - marketing people included."
Last year, DMS signed a standing agreement with Pikes Peak Community College to offer this program to their Graphic & Multimedia Design students, to great success. Diversified Machine Systems is looking to expand on that collaboration with other colleges as well as make it available to individual students.
For additional information and to apply, visit http://www.DMSCNCRouters.com/Internship-Program.
Diversified Machine Systems (DMS) is a leading designer and manufacturer of 3 axis & 5 axis CNC routers and large format CNC machine centers with headquarters in Colorado Springs, CO. With more than 30 years of innovation and industry experience as an Original Equipment Manufacturer, DMS' line of CNC routers and machining centers are routinely used on materials such as wood, composites, aluminum, steel, plastics, and foams. Renowned for quality and precision, our advanced machining centers are engineered to increase efficiency and productivity, while maintaining the quality and precision our clients have come to expect from DMS.
In March, DMS was awarded as a 2014 Colorado Companies to Watch Finalist. Winners will be announced in late June. DMS was also recognized with the 2013 Regional Business Alliance Excellence in Manufacturing Award by the Colorado Springs Regional Business Alliance in November 2013.
Be sure to connect with DMS socially for CNC news and tips:
Twitter.com/DMSCNCRouters
YouTube.com/DMSCNCRouters
Instagram.com/DMSCNCRouters
Facebook.com/DMSCNCRoutersandMachineCenters
Plus.Google.com/+DMSCNCRoutersandMachineCenters