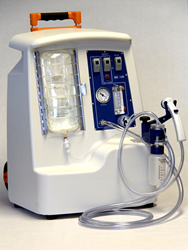 Traverse City, Michigan (PRWEB) April 14, 2015
For many years, DNA data has played a crucial role in solving crimes. Traditionally, forensic departments have taken sample collections by using swabs. However, this has not always been the optimum solution for collecting micro-particles from rough, porous or smooth surfaces. With the introduction of the M-Vac System, this situation is changing. Developed as a wet-vacuum collection system, this revolutionary new machine enables forensic scientists to collect more DNA material both at crime scenes and in forensic labs around the world.
The M-Vac system works by delivering a sterile, DNA free solution to the sample surface to collect DNA material which is simultaneously recovered using a vacuum collection system. This solution is then concentrated and analyzed by downstream DNA processes and instrumentation to create a potential DNA profile. Due to their pressure and vacuum system requirements, M-Vac Systems contacted World Magnetics Company in Traverse City, Michigan. Using World Magnetics Company's reliable PSF103 pressure switch on the delivery system and PSF109 vacuum switch on the collection system has enabled M-Vac System's the ability to monitor these two simple but very crucial steps in the process. The addition of these reliable switches gives the operator the ability to make sure the system is functioning correctly. This in turn leads to better sample collections.
For further information on the M-Vac System or Pressure, Vacuum and Differential Switches from DesignFlex™ by World Magnetics Company, please visit or contact:
M-Vac Systems: http://www.m-vac.com
World Magnetics Company: http://www.designflexswitches.com
Media Contact for World Magnetics Company
Martin Paul
mpaul(at)worldmagnetics(dot)com Email
(231) 922-7612 Direct
(231) 946-3800 Main
(800) 643-3884 Toll-Free
World Magnetics Company
810 Hastings Street
Traverse City, Michigan 49686