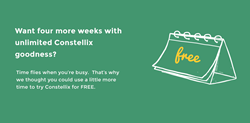 We will use this time to make the necessary improvements to the suite so that we can feel 100% assured Constellix will satisfy all our clients' needs.
Reston, VA (PRWEB) August 31, 2016
Constellix recently launched out of beta and has been offering production version services without cost while they continue to update the suite. The suite services over 15,000 clients who have been integral to the Constellix team's decision to prolong the promotional period.
"After considering the invaluable feedback we have received from our clients, we have decided to extend the complimentary period of Constellix for another month," says President of Constellix Steven Job. "We will use this time to make the necessary improvements to the suite so that we can feel 100% assured Constellix will satisfy all our clients' needs." During the extended promotional period, the suite will continue to be improved with feature updates and network expansions before the final release to the billing version.
Since Constellix began the promotional period, the suite has gone through many upgrades and improvements. Many of these new features have come from client requests, like the new Sonar monitoring node locations. Constellix Sonar recently doubled their monitoring power with twice as many nodes, along with a few new ones in South America, Vietnam, and India. Sonar also saw improvements to its backend infrastructure to improve scalability.
Tiggee, the parent company of Constellix, has announced that more network expansions are in the works. Tiggee recently cemented stronger relationships with a few Tier 1 data providers such as: TeliaSonera, Tata, GTT, and Telstra. These relationships have been foundational to the success of the Tiggee network, like DNS Made Easy's 14-year 100% uptime record. These new partnerships will surely help catapult Constellix to one of the highest performing ITOS services in the world.
"We want to be completely confident that the suite will deliver the best performance for our users. Until then, we will continue to offer services without billing," says Job. The engineers want to enforce that the Constellix platform is no longer considered to be in beta. However, the Constellix team has chosen to not begin charging for services until they are confident that users will be 100% satisfied with the platform.
After the complimentary period ends, clients will pay for the services they are actively using. This pricing model was designed to offer clients with optimal scalability, especially for growing businesses. Pricing for both Constellix Sonar and Constellix DNS services is now publicly available on the Constellix website.
"We are confident that Constellix will continue to be the ITOS industry leader as it moves to the final billing version," says Job. Constellix is anticipated to outperform all other traffic management platforms for cost efficiency and traffic manageability. The suite is the next evolution of traffic management, due to its integrated monitoring and management. This proprietary synergy is able to give clients a competitive edge and overcome the limitations of non-integrated services.
About Constellix
Constellix is a subsidiary of Tiggee LLC, the creators of DNS Made Easy, and the industry leader in providing IP Anycast enterprise DNS services. Constellix is an Internet Traffic Optimization Services (ITOS) company and trailblazer in next-generation traffic management solutions. The Constellix GeoDNS platform offers the most powerful and precise DNS query management, engineered for the cloud. The platform is fully integrated with Constellix Sonar, which offers a range of advanced monitoring features and intelligent analytics tools.