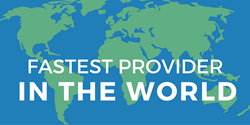 Time and time again DNS Made Easy remains the world leader in independent third party testing.
Reston, VA (PRWEB) October 04, 2016
Third party network monitoring firm, SolveDNS, has named DNS Made Easy as the "fastest managed DNS service across the world" in September 2016. SolveDNS also ranked the company as third for market share, boasting 12.5% of the world's share. These accolades join DNS Made Easy's title of most reliable DNS provider for its 13 years 100% uptime history. DNS Made Easy cites recent upgrades to their network and new partnerships with tier one providers as the source of improved speeds.
"This recognition from SolveDNS reaffirms our efforts to ensure optimal online performance for all of our users," says President of DNS Made Easy Steven Job. This is the fourth time this year that DNS Made Easy has been ranked as the fastest provider. "Time and time again DNS Made Easy remains the world leader in independent third party testing," continues Job.
SolveDNS has stated that they conduct their testing from seven critical points of presence around the world. Each of their nodes monitor for uptime history, query resolution times, and individual name server performance. You can view the current month's report on the SolveDNS website to see the breakdown of each provider's performance across all seven nodes.
However, speed is just one aspect of a DNS management provider's performance. Reliability, uptime history, peering partners, facilities, and management functionality are just a few of the other factors that clients should take into consideration when evaluating their service providers. Choosing a provider should not be taken lightly, as DNS is the first point of access between potential customers and a website.
DNS performance is weighing even more heavily on website and application performance. A select few DNS management platforms have evolved to meet these demands by incorporating real-time data and performance metrics to influence routing. All of this is made possible through cloud computing, which allows providers to host massive traffic loads and develop dynamic routing configurations.
DNS Made Easy is dedicated to educating clients on the importance of implementing a cloud-based DNS provider, and understanding the array of factors that can influence online performance metrics.
About DNS Made Easy
DNS Made Easy is a subsidiary of Tiggee LLC, and is a world leader in providing global IP Anycast enterprise DNS services. DNS Made Easy implemented the industry's first triple independent Anycast cloud architecture for maximum DNS speed and DNS redundancy. Originally launched in 2002, DNS Made Easy's services have grown to manage hundreds of thousands of customer domains receiving more than 30 billion queries per day. Today, DNS Made Easy builds on a proud history of uptime and is the preferred DNS hosting choice for most major brands, especially companies that compare price and performance of enterprise IP Anycast alternatives.