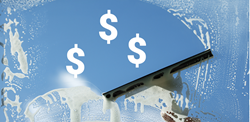 We stand behind our prices, and instead of offering discounts we choose to offer everyone the same pricing. We believe this gives you the best ROI and quality of services...
Reston, VA (PRWEB) October 20, 2016
DNS Made Easy, a longstanding proponent of using a traditional pricing model, has advocated for increased transparency in the DNS industry. To help potential clients and other providers in the industry better adapt to this model, the DNS Made Easy team conducted a study to determine which pricing model clients preferred: static or dynamic. The study also seeks to bring to light some issues that prevent providers from having total transparency with their user base.
The study was met with an overwhelming response, with a whopping 75% of clients opting for a static pricing model. Respondents explained that a traditional pricing structure seemed fairer to the client and upheld vendor transparency. Sixty percent of survey respondents explained that they felt uneasy using a service that implements a dynamic pricing model, because they could be paying more than most other clients.
"The study results have reconfirmed our decision to stand by our fixed pricing. We want every client to know that they are getting the best deal, that's why we make our pricing publicly available on our website," says President of DNS Made Easy Steven Job. DNS Made Easy has been a leader in this approach, opting to not implement a sales department, and instead using a simple three tiered pricing structure.
Businesses that use dynamic pricing usually seek to maximize profits with each customer. That means, each customer could be paying different prices depending on how well they can haggle. Sales teams that use this model are often not concerned with getting each client the most ROI. Some sales teams will even use scare tactics or aggressive maneuvers to make a sale.
Potential clients often ask if DNS Made Easy offers discounts or negotiates pricing for services. Job explains that, "We stand behind our prices, and instead of offering discounts we choose to offer everyone the same pricing. We believe this gives you the best ROI and quality of services, because we know we have the most reliable, fastest, and best performing network."
In recent efforts to increase transparency with clients, DNS Made Easy has stressed the importance of understanding the costs to support their network. In a series of white papers, articles, and infographics about their network, DNS Made Easy engineers have highlighted the lengths they go to when striking partnerships with new providers and facilities. Recent studies have shown that when companies divulge the true cost of services, it eliminates uncertainty and reassures clients. One study in particular has shown that this sense of "intimate disclosure" led to a 44% increase in daily unit sales.
About DNS Made Easy
DNS Made Easy is a subsidiary of Tiggee LLC, and is a world leader in providing global IP Anycast enterprise DNS services. DNS Made Easy implemented the industry's first triple independent Anycast cloud architecture for maximum DNS speed and DNS redundancy. Originally launched in 2002, DNS Made Easy's services have grown to manage hundreds of thousands of customer domains receiving more than 30 billion queries per day. Today, DNS Made Easy builds on a proud history of uptime and is the preferred DNS hosting choice for most major brands, especially companies that compare price and performance of enterprise IP Anycast alternatives.